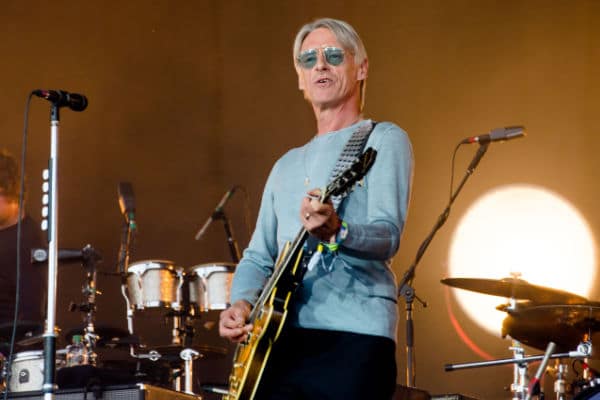 Blur have confirmed that they will be supported by Paul Weller and other acts for their upcoming shows at Wembley this Summer.
As part of their reunion show, Damon Albarn and co will take to the Wembley stage on July 8 and 9, where they will be joined by a host of support acts.
The first night will see Blur supported by Self Esteem, Jockstrap and Slowthai.
It has now been confirmed by Paul Weller will open for Blur on the second night, while two stone Ska outfit The Selector will also perform at the event.
The show will also include a DJ set from six time world Snooker champion Steve Davis.
"Last time I played at Wembley was in goal for Coventry but things have just gone to another level", Davis tweeted.
https://twitter.com/SteveSnooker/status/1628337814998843393?ref_src=twsrc%5Etfw%7Ctwcamp%5Etweetembed%7Ctwterm%5E1628337814998843393%7Ctwgr%5E5759372381ffa3acfc8057e40e72f76f1761d4d6%7Ctwcon%5Es1_&ref_url=https%3A%2F%2Fwww.nme.com%2Fnews%2Fmusic%2Fblur-announce-paul-weller-and-more-as-support-for-second-wembley-show-3402595
Any remaining tickets for these shows can be found here.
Wembley Stadium supports just announced! Very special guest @paulwellerHQ, @SteveSnooker and @theselecter will be joining blur for their second night at Wembley on 9th July. Don't miss it! Tickets on sale now – https://t.co/cHu44LjTxD pic.twitter.com/3paH9d9XZa

— blur (@blurofficial) February 22, 2023
Blur Coming To Malahide
News of these Wembley shows comes just months after Blur had already announced plans to perform at Dublin's Malahide Castle on June 24.
Once again, this show will see Damon Albarn, Graham Coxon, Dave Rownthree and Alex James return to the stage.
 "I'm really looking forward to playing with my blur brothers again and revisiting all those great songs… blur live shows are always amazing for me. A nice guitar and an amp turned right up and loads of smiling faces…", Blur's Graham Coxon said.
Alex James also added, "There's always something really special when the four of us get in a room. It's nice to think that on 24th June that room will be in Dublin's Malahide Castle".
Elswehere, Dave Rowntree explained that it was a relief to be returning to the stage with Blur following a chaotic few years.
"After the chaos of the last few years, it's great to get back out to play some songs together on a summer's day in Dublin. Hope to see you there", he said.
More on this from Nova here.