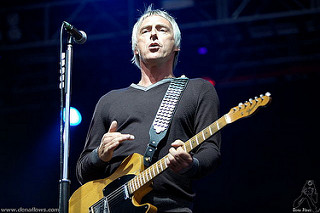 Paul Weller is reissuing two of his albums on vinyl this year.
One of the albums being reissued, his self titled debut solo album, has been unavailable on vinyl since its original release, which has meant that existing copies have been selling for £80. The album was first released in 1992.
The second album being reissued is 1997's 'Heavy Soul', which hasn't been available on vinyl since its release. The two albums will also come with a download code for the album.
Weller's solo career took off with the release of his self titled debut solo album, and the release of singles 'Into Tomorrow' and 'Uh Huh Oh Yeh', after The Style Council broke up in 1989.
'Wild Wood' and 'Stanley Road', which were Weller's second and third albums, are available on vinyl due to previous reissues. However, fourth album, 'Heavy Soul' had never been reissued. The album, which is quite rare on vinyl, features the song 'Peacock Suit'.
Weller's albums 'Wild Wood' and 'Stanley Road', which were released in 2000 and 2002, are also expected to be reissued on vinyl in 2017.
The musician is currently working on his first film soundtrack for movie 'Jawbone' which is due out in 2017. The film stars Ray Winstone, Michael Smiley and Ian McShane.
Weller is currently working on the follow up album to 2015's 'Saturns Pattern'.
Photo Cred: Dena Flows