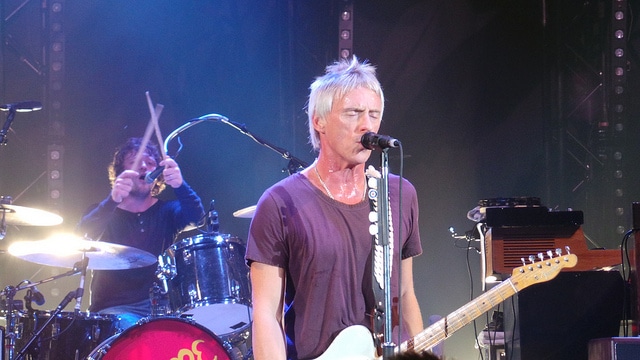 Paul Weller unveils the date of when his new album is dropping and the English singer-songwriter shares a new music video.
His new record titled Saturn's Pattern will be available on Friday May 8th on his new label Parlophone.
It's the singer's twelve solo LP and his first in over two years. Weller's last album Sonik Kicks, released in March 2012, knocked dance DJ David Guetta off the top spot in the UK album charts.
The frontman's described his forthcoming album Saturn's Pattern, as "one of the best things I've done".
Watch his new music video for the song 'White Sky'
In the latest issue of Uncut, Weller revealed that the new record is expected to be released in the spring and contains nine brand new tracks. He confirms that the LP is a "defiantly 21st Century" creation.
Weller said: "I think it's one of the best things I've done. And it's been a pleasure doing it. There's been no headaches, i can't compare it to any of my other albums."
"I think it's different not just for me, but different from what else is around. It's been pretty quick, really. We did a bit of work before the summer, then I took a break because I was out on the road. We started back in October. It's taken us a couple of months, maybe."
Saturn's Pattern is "certainly progressive in the literal sense of the word. It's defiantly 21st Century music." He explained how the song 'I'm Where I Should Be' came about. "Before we quit one night I put down this bass riff and I left it at that. Stan [Jan Kybert, producer] put a beat behind it a few weeks later and we both realised then that it could go somewhere,"
Weller continued: "We built on that, adding some chords and some different instruments and finding different little sections for it. We used Pro-Tool as well. The whole editing on that is fucking brilliant. Some of the possibilities, you couldn't do it with tape, it would take years to do. But I think we used that to capacity, in a good way. So we just tried different sections then inserted them into the song, just built the arrangement up and then put a melody on it and the lyrics."
Saturn's Pattern track list:
White Sky
Saturn's Pattern
Going My Way
Long Time
Pick It Up
I'm Where I Should Be
Phoenix
In The Car…
These City Streets