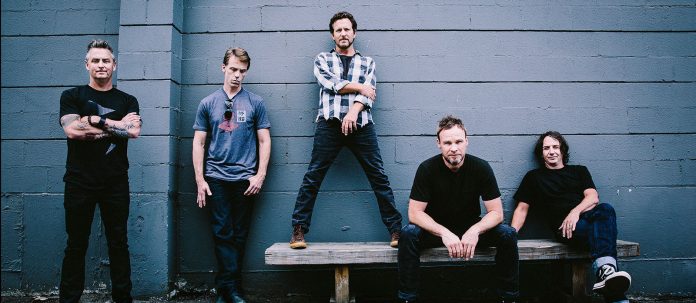 Pearl Jam have announced that they are set to play two massive shows in London next summer. The Seattle grunge icons have been announced as the first headlines of the British Summer Time (BST) festival, hosted in Hyde Park.
Pearl Jam were originally scheduled to play one night in Hyde Park this year, but the show was cancelled due to the Covid-19 pandemic. Now, the group become the first act to play two shows consecutively at the BST festival when they play Hyde Park on July 9th and 10th in 2021.
The first night will see the Pixies act as the main support for Pearl Jam and the second night will have IDLES in support. These shows are in support of Pearl Jam's latest album. 'Gigaton' was released in March of this year and is their 11th album.
Jim King, CEO of European Festivals at AEG presents said "We couldn't be happier to be back and we can't wait to bring everyone together with BST Hyde Park 2021, for what could be the most memorable British Summer Time ever."
"Pearl Jam jumped at the chance to celebrate after having to cancel their show this year and we are honoured that they agreed to play two consecutive nights, a first for BST.
"As their fans know, they are the perfect artists for such an unprecedented double bill".
Pearl Jam will join fellow legendary artists and bands such as Roger Waters, The Cure, Eric Clapton, Neil Young, Green Day, Bon Jovi, Tom Petty and The Heartbreakers, Black Sabbath and The Who as headliners of BST.
The BST 2020 had acts such as Taylor Swift, Kendrick Lamar, Post Malone, and Duran Duran. It has not been confirmed whether or not these acts will return to BST for 2021.
In an interview with NME, Pixies guitarist, Joey Santiago said that the fact bands are organising concerts "offers hope" for the future. Santiago is an admirer of Pearl Jam and their frontman Eddie Vedder.
"we have done Eddie Vedder's festival in San Diego, which was great – a great location, great guy. Just a normal dude. I know that's weird to say, everyone's normal, but he's a normal dude. Very casual."
Last Friday, Pearl Jam released a new song entitled 'Get it Back'. The song was a contribution to the 77 song album 'Good Music To Avert The Collapse of American Democracy'. The album also featured songs from Jason Isbell, My Morning Jacket and Tenacious D. Last month Pearl Jam released the uncensored version of their music video for 'Jeremy' to raise gun violence awareness.
Fans who purchased tickets for this year's cancelled show will have priority access to rebook, or to upgrade and experience both shows with a two day ticket. Fans now have the opportunity to buy a ticket via a payment plan for the first time. More acts and information are to be announced shortly.
Tickets go on general sale on the BST website from 10am on Saturday October 10th with prices starting at €77 plus a booking fee.