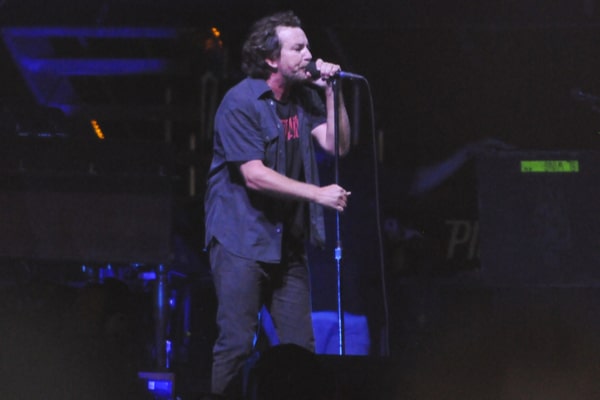 Earlier this week, Pearl Jam opened their Gigaton Tour by paying a special tribute to the late Foo Fighters drummer Taylor Hawkins.
On Tuesday (May 3), Pearl Jam performed at San Diego's Viejas Arena, where they honoured the late drummer.
Hawkins sadly passed away in March aged 50. His death of course sent shockwaves around the world of music, with so many household names paying tribute and sharing their sadness over his death. 
"something very incredible and very special"
Just before the band were about to perform their track 'Quick Escape', frontman Eddie Vedder mentioned Hawkins' name to the crowd, honouring drummer Matt Cameron's friendship with him.
"[Hawkins] emitted something very incredible and very special", Pear Jam frontman Eddie Vedder told the crowd.
"We're all missing him, and so, Matt, I'm sorry again for your loss", he added. "But it just gives us another chance to say how much we appreciate you as well". 
Back in 2020, Cameron and Hawkins formed the band Nighttime Boogie. They also performed at a special concert in honour of late Soundgarden singer Chris Cornell a year earlier.
You can check out Pearl Jam's tribute to Hawkins below.
Along with Pearl Jam, Red Hot Chili Peppers paid tribute to Hawkins at the New Orleans Jazz and Heritage Festival over the weekend.
After performing 'By The Way', Chili Peppers drummer Chad Smith who was using a drum kit with 'Taylor' emblazoned on it, addressed the audience in Hawkins' honour.
"We just found out about this [gig] two weeks ago, because Foo Fighters were supposed to play here tonight", he told the crowd. "We love the Foo Fighters, and we love our brother Taylor Hawkins. So this means a lot to us to be able to play for them".
Chad Smith subsequently called on the crowd to chant "We Love Taylor". More on this here.
Back in March, Pearl Jam also confirmed that they have started work on a new album.