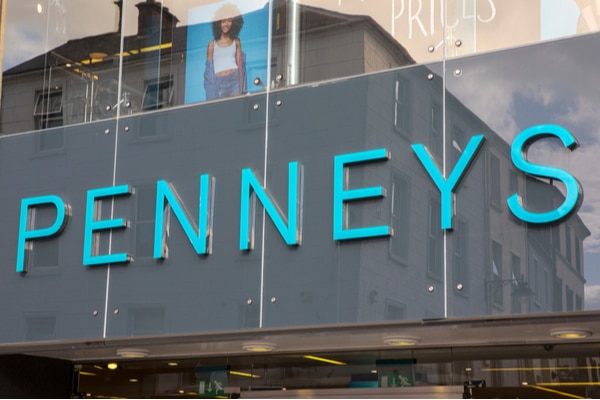 Popular fashion superstore, Penneys has announced that shoppers can now avail of its new 'shopping by appointment' scheme from today. With the full reopening of all stores set for May 17th, shoppers can now queue to reserve a slot to browse their local Penneys store a week before the reopening.
Customers can avail through the online booking portal from today and shop in any of 37 Penneys stores across the Republic. Customers will reportedly be able to book a shopping appointment from Wednesday the 12th at the latest. The statement follows fellow fashion outlets, Brown Thomas and Arnotts, which are also announcing one-on-one appointment slots for dedicated customers.
A spokesperson for Cork Wilton Shopping Centre said its Penneys store will allocate "100 slots per hour and 1 person per booking. Customers will have 45 minutes shopping time and 15 minutes transaction time, ie to pay at the register. All customers must leave when their shopping time slot time is up. Customers are encouraged to only arrive just before their booked time. Trading hours are also on our website. One booking per adult and children over 12 years."
Of course, the allocation of slots depends on the size of each store, meaning certain places could fully book out. However, with full re-opening for non-essential retail taking place May 17th, customers will not have to wait much longer to shop. To compensate the demand, Penneys will have extended opening hours across every store to help reduce queues, giving customers more time to shop safely.
"We are thrilled to welcome everyone back to Penneys; we've really missed our customers and fantastic retail teams, so it feels great to finally reopen our doors," said Penneys CEO, Paul Marchant. Promising to be worth the wait, Marchant said customers can check out its "fresh new season fashion collections". With everyday must-haves all at Penneys' "famous amazing prices, there really is something for everyone waiting in-store". The Penneys CEO added that safety "remains at the front of our minds" and will be extending opening hours across all our stores to help meet demand safely.
The whole Penneys team said they are "delighted" to begin preparations to welcome customers back to its stores. "We welcome the government's decision to introduce shopping by appointment as a first step having already launched this service successfully in some of our European markets. We will be offering shopping by appointment in every Irish store ahead of our full reopening on May 17th and have begun working through the logistics, starting with bringing our amazing store teams back to work".
Penneys on Dublin's O'Connell Street is said to be opening this Sunday from 10:00 am.