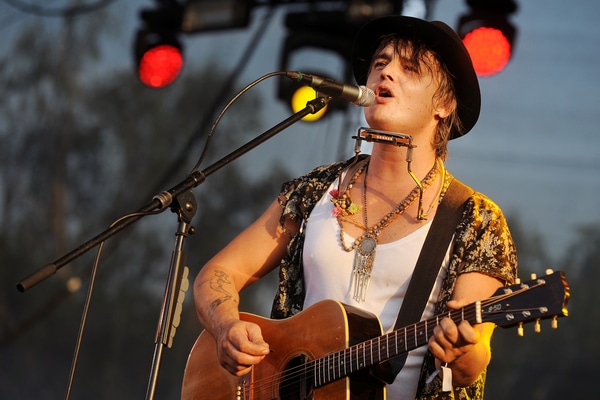 An inmate at a Glasgow prison is set to be signed to Pete Doherty's record label.
The Libertines singer discovered the convict's musical talent while he was involved in a project that saw him play guitar to prisoners at Glasgow's Barlinnie prison while posing for still life drawing.
Doherty said he was initially apprehensive about getting involved in the project until he realised he could keep his clothes on while posing.
"It was nice, actually, to keep my clothes on," he said. "Because when they first said, 'you're going to do a still life at Barlinnie Prison for the still life class', obviously the first thing you think of is a nude model. So I went there with a bit of trepidation, thinking, 'well, I'm not going to be able to say no because I'll just look like I'm bricking it'. But they wanted me fully clothed so that was a huge relief."
While at the prison, Doherty was taken aside by an inmate who gave him an impromptu audition.
"They're an amazing bunch of lads from right across the board," he said. "Obviously all stuck in Barlinnie for one reason or another. But at one point, one of the lads took me aside and said, 'Pete, I've been playing guitar a bit since I've been in…I've taught myself how to play and I've written a few songs.' And I said 'Oh alright…'. So, I said 'Go on, give us a few songs then'…And he went 'No, I'm not doing it in front of the screws and that!' And I said 'Now, come on!' So he took the guitar and I took the pad and the pencil. We swapped places and he started bashing out all these lovelorn ballads. Like, really uplifting, melodic songs…And you should have seen the jaws drop. Not just from the other prisoners but from all the officers. They couldn't believe it. They didn't even know that he could sing or play. He'd just been teaching himself in some back-room in the gym with an old guitar."
Asked if he would sign him to his record label, Strap Originals, Doherty replied, "I have to because I promised him I would now and I don't want to get on his bad side. Do you know what I mean? He's a tasty geezer."
Doherty has collaborated with French musician Frédéric Lo on a new album. Titled The Fantasy Life Of Poetry & Crime, the album will be released through Strap Originals on March 18th. The duo will tour Europe in May to promote the album.
'The Fantasy Life' tour kicks off in May!

Ticket presale from Wednesday 2nd Feb & General Sale Friday 4th Feb

For early access to presale tickets you can pre-order a copy of the album here:https://t.co/HHJqBAkbo6 pic.twitter.com/7PN0Mz0pgk

— Peter Doherty (@petedoherty) January 28, 2022
"A lot of it was inspired by films and the few years I was in Margate before I ended up in lockdown in Normandy and then completely separated from England and from addiction," Doherty said of the album. "I was getting clean. I suppose there was just so much recklessness for such a long period of time and not really caring what anyone else thought that it reverses, and all of a sudden you go from having no pressure to being hyper-sensitively aware of this new expectation. I think the creative process is like an addiction in itself. I need to write songs, and I've never really got to the bottom of it."