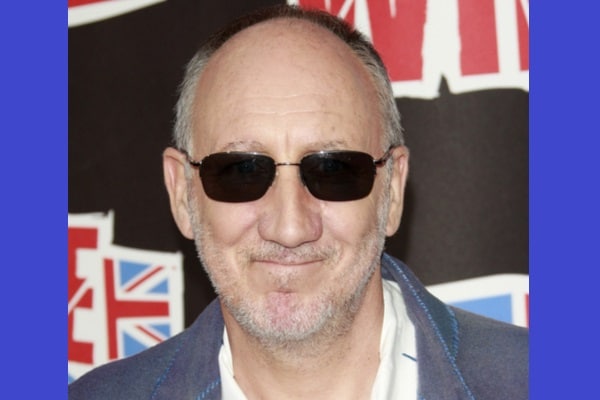 Pete Townshend has revealed that he thinks he would have identified as pansexual in previous years, in a recent interview. The Who guitarist also revealed the origins behind the band's hit tracks, I'm A Boy and Tattoo. These tracks were written about that one point in Pete's life when he would sleep with anybody, regardless of gender.
Speaking to Rock Cellar Magazine, the 76 year-old revealed, "with 'I'm A Boy', it's the idea of masculinity and the way that men are seen to be at a time when I often forget, to be homosexual, to be pansexual, as I think I probably was, but not anymore".
Townsend admits he believes he "was ready to fall into bed with anybody that would have me. I think I forget that homosexuality was still illegal, so these adventures had to be couched in vignettes of humour and irony."
Tattoo was written by Townsend when the band had three days off in the middle of the Herman's Hermits "long, sixteen-week" tour. Pete revealed he wrote the classic hit when the band spent all three days off in 'sin city', Las Vegas.
"We had three days off in Las Vegas and I wrote "Tattoo" while I was there," Pete explained. "I think I was very conscious of the fact that somehow there was a poetry behind all this stuff. It's so interesting because today, of course, all of this stuff is discussed, there's New Yorker articles. (laughs) It's stuff that we can speak openly about.
"But, you know, I've never had a tattoo," Pete added. "I never wanted it. But I knew that, if you went to prison, you came out with tattoos. That's something that I knew, and I think that's still the case. You came out with tattoos and huge muscles (laughs) and yet all of the guys that I knew had been in prison, you know, because a lot of the kids that I grew up with and particularly a lot of the kids that Roger grew up with were hooligans and went to jail".
Pete describes Tattoo as a "very, very important song" which the band still play to this day, because "Roger just loves it". He thinks Roger loves the idea of "challenging himself with the idea of 'what makes a man'".
"When he was a young guy, he talks about the fact that he was short and became a bully, a fighter. Roger was a notorious fighter in the neighbourhood we grew up in. I remember doing a gig in Glasgow and he got into a fight with about 10 Glaswegians, and he knocked them all out. He was an incredibly efficient fighter". (laughs).
Pete believes Plant's love for Tattoo is his love of "the idea of playing with the notion of 'what makes a man a man'. It's interesting. It still is, even though we're not supposed to even think or talk about that stuff anymore, it's all too clichéd and too old-timey. Let's cancel it. Let's cancel tattoos." (laughs)
Daltrey and Townsend were forced to cancel their 2021 UK and Ireland Who tour dates earlier this year due to the coronavirus pandemic. The band released a statement apologising for the cancelations and hoped to see fans in the future, "when conditions allow". The band have yet to reschedule dates on this side of the pond, but they are still set to head to the United States, with gigs which kickoff on 19 August in San Diego.