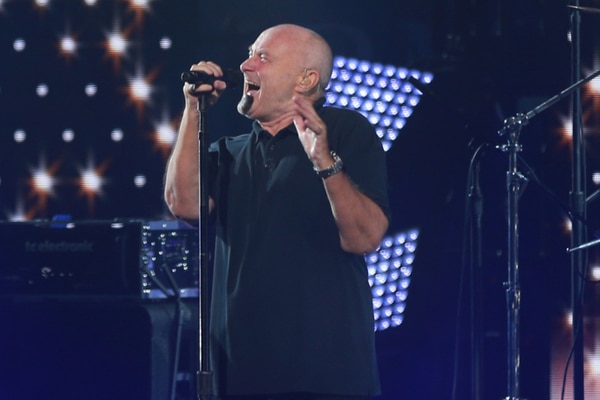 Genesis' Phil Collins has said that he feels the band's long awaited reunion tour "The Last Domino?" could be their final curtain call.
Originally due to take place in November 2020, the tour was moved to April 2021. However, the tour was pushed back further until September due to the pandemic.
Explaining the reasons behind postponing the tour back in January, Genesis released an official statement.
They said at the time,  "We're ready, but the world isn't… yet!" Genesis are rescheduling their April UK and Irish tour dates for autumn 2021 in light of the ongoing pandemic".'The Last Domino?' Tour 2021 will now start in Dublin on 15th September".
They added, "We're ready, but the world isn't yet". 
Having just performed in Dublin's 3Arena, Phil Collins and co will next hit the stage in Belfast's SSE Arena on September 18. Check out the rest of the tour dates here.
This tour "will be enough for me" – Collins
Back in November, Phil Collins had reportedly said that Genesis "The Last Domino?" Tour could be their last.
"This English and American tour, that will be enough for me", the frontman said at the time.
Asked about the use of the question mark in naming this tour, Collins also added, "Yes. The question mark was (keyboardist) Tony Banks' idea". 
Banks himself also had this to say, "I think it depends a little bit how it goes". 
He also added, "How Phil stands up to it all. How the audience receive it, and how we all feel about it, really". 
Speaking more recently, Phil Collins revealed his is unable to play the drums due to health issues. 
For this tour, Phil's son Nic will take on that mantle.
"I'm kind of physically challenged a bit which is very frustrating because I'd love to be playing up there with my son", he revealed.
Phil Collins also said that he is unsure if he will play the drums again.
I would love to but, you know, I mean I can barely hold a stick with this hand, so there are certain physical things that get in the way", he explained.
May 2021 also marked 35 years since Genesis' track "Invisible Touch" hit number one in the US Charts. More on that here.