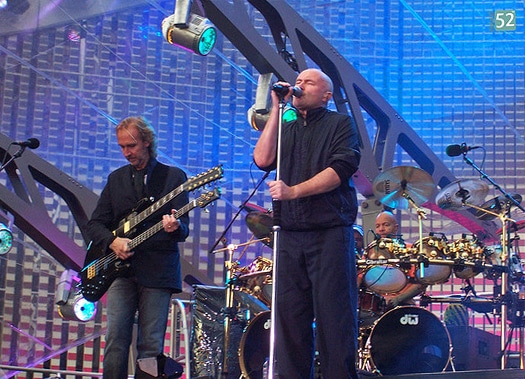 Legend Phil Collins' hasn't gotten a nice welcome down under. The reviewer of his first Perth (Western Australia) show since 1995 was not happy with him appearing on stage with a walking cane and chair.
Simon Collins, no relation, says…
"Phil, who turns 68 on January 30, spluttered into 1984 power ballad Against All Odds on a swivel chair resembling one on which someone of his vintage might perch at the pokies.
The bald, bespectacled singer benefited greatly from his backing singers, and his 17-year-old son Nicholas — a chip off the old block on drums — significantly lowered the average age of the band"
And how is this for a kick in the guts sign of from Simon
"Lucky Phil is not dead yet, but someone might want to check for a pulse"
The singer was detained last year at Rio de Janeiro's Galeao International Airport due to issues with his work visa. He announced a comeback tour in October 2016 after coming out of retirement but following a fall, the British singer was forced to reschedule them.
The singer has performed a number of shows from his chair, including his British Summertime Festival set in Hyde Park last June.
During his series of 2007 shows, Phil dislocated a vertebra in his neck, undergoing years of surgery, electroshock therapy, water therapy and physiotherapy to sort it out.
He spoke about his problems with alcohol at a press conference to announce his return to the spotlight, revealing he was no stranger to drinking bottles of vodka for breakfast.
PERTH SET LIST
Against All Odds
Another Day in Paradise
I Missed Again
Hang in Long Enough
Throwing It All Away
Follow You Follow Me
Can't Turn Back the Years
Inside Out
Who Said I Would
Separate Lives
Something Happened on the Way to Heaven
You Know What I Mean
In the Air Tonight
You Can't Hurry Love
Dance Into the Light
Invisible Touch
Easy Lover
Sussudio
ENCORE
Read the full review here
And watch Phil in action in Perth below