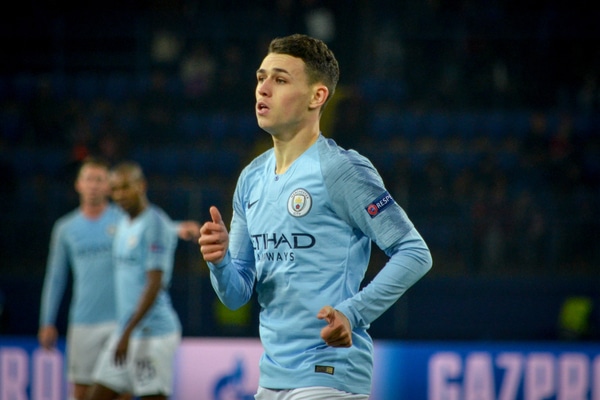 Shocking scenes emerged on Saturday when the mother of footballer Phil Foden was punched in the face following a backstage brawl after the Amir Khan vs Kell Brook fight last week.
In horrific footage which appeared online, Phil Foden's mother Claire confronted a group of men who aimed abuse at her son.
One man can also be heard calling Phil Foden a "c***" in a shocking video.
"Who you calling a c***?"
Phil Foden can be spotted stepping in to defend his mother from the group of thugs. One man is also seen ripping off a fire extinguisher and using it as a weapon.
This comes after the England footballer was mocked by a group of youths following his team Manchester City's 3-2 defeat to Totenham Hotspur last Saturday evening.
Foden's girlfriend Rebecca Cooke can be heard shouting at the group, "Who you calling a c***?. 
The couple who have two kids together, walk into a private room at the Manchester AO Arena following Khan's defeat to Kell Brook.
Claire Foden then confronts the group, asking them "Right, who's calling him?". One man replies "No one".  "Right, then f*** off", was Claire's response.
After she pushes a man in a black jacket, which forced him to fall several steps backwards, the man takes a swing at Claire Foden. A man wearing a black baseball cap steps in punches out in her defence.
She then strikes out at two men, including hitting a young blonde man in his face. She also slaps a bald man who struck her.
Brawl Breaks Out 
Suddenly, all hell broke loose as around seven people are spotted scrapping in the corridoor.
The man wearing the baseball cap grabs the fire extinguisher from the wall and lunges towards the blonde man. It looked like he smashed him over the head with the extinguisher before walking away.
The video concludes with the the man wearing the cap lunging at the blonde man twice.
Phil Foden can be also seen in the footage trying to defend his mother. However, there is no evidence that he threw any punches or was even involved in the fracas.
His girlfriend also stands away from the fighting.
Following the incident, Manchester City subsequently released a statement defending their player.
"The club is aware of a video which has circulated on social media showing Phil Foden and his family being harassed and abused", they said. "We are shocked and appalled about the nature of the abuse and ensuing assault on one of Phil's family members".
"We will continue to give Phil and his family all the support and assistance they need". 
Greater Manchester Police also added, "GMP are aware of a video circulating on social media showing a disturbance at the AO arena last night".
"We are conducting some further enquiries into the circumstances surrounding the incident".
This comes just weeks after West Ham footballer Kurt Zouma recieved strong criticism after a video of him kicking a cat was posted online.