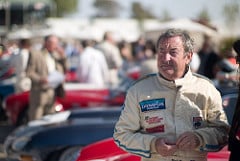 Pink Floyd Drummer Nick Mason was involved in a crash on Sunday (March 19) in which he was driving his rare Formula One car when it collided with a tire wall during the Goodwood Members Meeting.
The 73 year old rock legend had a near miss when his red and yellow McLaren F1 GTR sports car suddenly span out of control during a demonstration lap at the notorious St Mary's corner on the Goodwood circuit in West Sussex, England. The drummer, who is an experienced racing car driver luckily walked away unharmed from the battered vehicle. However it is said that 'serious damage' was done to the car.
The rock veteran has long been a motor sport devotee, having previously competed in the prestigious Le Mans 24 hour race.
Sunday's smash occurred during Goodwood's 75th Members' Meeting, a motor sport event which sees enthusiasts engage in a weekend of racing and demonstration laps.
Mason is a car aficionado and owns one of the world's most extensive collections of classic cars, including a rare Ferrari 250GTO valued at around $31 million (€28 million).
Footage of the lap live-streamed on YouTube showed Mason's car sliding across a grass verge before smashing into protective banking.
The clip showed Mason emerging unscathed from the crash, but his multi-million euro vehicle was less lucky as its front end was left severely damaged. The McLaren F1 GTR supercar is worth over €3.4million.
Stewards were forced to wave red flags halting the event while Nick's wrecked car was towed away.
"Those unfamiliar with the McLaren F1 GTR should know that some serious damage has been done to a seriously rare car," say Motor Authority, adding the damage is likely to be very costly. "Only about 100 F1s were ever built, and of those, only 28 were F1 GTRs, which were race versions of the street car built from 1995 to 1997. These cars all used carbon fiber monocoque chassis and BMW-sourced V-12 engines that put out 600 or more horsepower."
Picture Credit: Jerrold Bennett