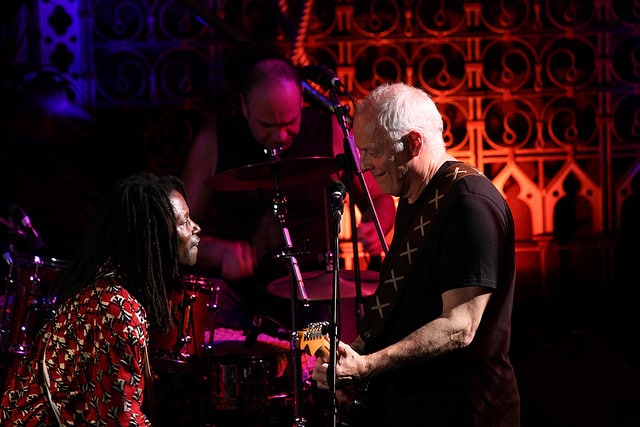 Pink Floyd have revealed a 30-second excerpt from their forthcoming album, giving fans a tiny taste of what to expect on the new record.
The instrumental clip features a classic sounding Floyd guitar solo over a soft drum beat.
The new LP from David Gilmour, Rick Wright and Nick Mason is called The Endless River. It's an 18-track album and is due out on November 7th via Parlophone.
It is the band's first record for more than two decades, the last material being The Division Bell released in 1994. The Endless River is based on recordings from the same 1994 session, and will feature contributions from deceased keyboard player Richard Wright, who passed away in 2008.
Listen to the new Pink Floyd teaser trailer below.
David Gilmour stated: "We listened to over 20 hours of the three of us playing together and selected the music we wanted to work on for the new album. Over the last year we've added new parts, re-recorded others and generally harnessed studio technology to make a 21st century Pink Floyd album. With Rick gone, and with him the chance of ever doing it again, it feels right that these revisited and reworked tracks should be made available as part of our repertoire."
The striking cover image of a man rowing on a river of clouds was created by an 18-year-old Egyptian digital artist named Ahmed Emad Eldin. "When we saw Ahmed's image it had an instant Floydian resonance. It's enigmatic and open to interpretation, and is the cover that works so well for The Endless River."
The Endless River track list:
Side 1
Things Left Unsaid
It's What We Do
Ebb and Flow
Side 2
Sum
Skins
Unsung
Anisina
Side 3
The Lost Art of Conversation
On Noodle Street
Night Light
Allons-y (1)
Autumn'68
Allons-y (2)
Talkin' Hawkin
Side 4
Calling
Eyes to Pearls
Surfacing
Louder Than Words