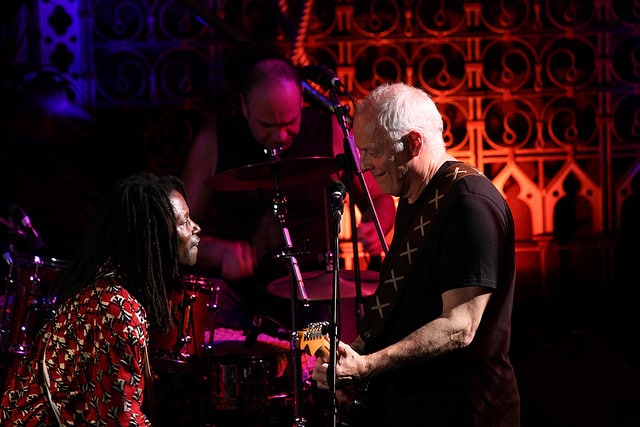 It's a moment that the English indie band Bombay Bicycle Club will never forget, they were joined onstage at London's Earls Court by Pink Floyd's frontman David Gilmour.
This is definitely a bucket list moment for the group, and will be nearly impossible to top, Glimour performed the track 'Wish You Were Here' with the group.
NME reports, the gig began with a spoof film, set 25 years in the future, looking back at the indie band's show at Earls Court. The short documentary starred Elbow's singer Guy Garvey.
Bombay Bicycle Club's guitarist, Jamie MacColl welcomed him to the stage, saying: "This man gave me my first guitar and was one of the first people to play this venue and by my count has played here more than 27 times".
Fans could hardly believe their eyes when half-way through the show, Floyd's frontman walked onto the stage and began playing the Bombay Bicycle Club song 'Rinse Me Down'.
According to NME, Pink Floyd's first concert at Earl's Court was during their 'Dark Side of the Moon' tour in 1973.
If that wasn't enough, he then picked up an acoustic guitar and sang the Pink Floyd classic 'Wish You Were Here'.
The concert was the last ever show at Earls Court arena before it's knocked down. Before playing the last song of the evening MacColl said: "As you may know this is the last gig at this venue, so for the next four minutes let's try and give it a fitting farewell, okay?"
Watch Bombay Bicycle Club and David Gilmour perform 'Wish Yow Were Here' below.