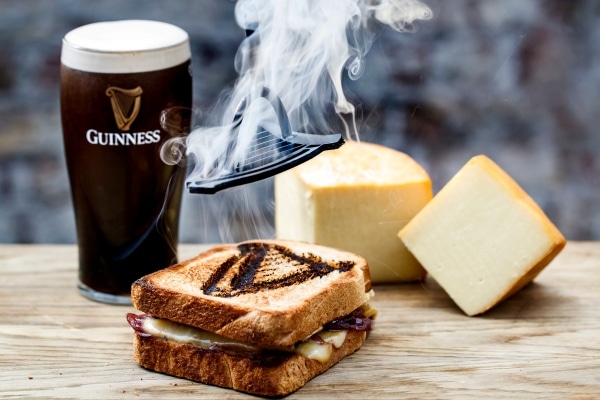 The Guinness Storehouse has revealed the recipe for one of Ireland's most treasured combinations – the perfect cheese toastie and Guinness Draught pairing.
To celebrate St. Patrick's, the Guinness Storehouse will be recreating the melted, golden-brown cheese toastie pairing for visitors to taste over the Guinness Storehouse 2018 St. Patrick's Festival which is running from March 15th – 18th.
From selecting the right cheese to balancing the rich, dark flavours of Guinness, to choosing the bread that stands up to the gooey goodness.
Is it buttered on one side, or both? The conversation reaches peak deliberation when examining the cooking technique; is it grilled, fried or created with a toastie maker?
A pressed toastie created with smoked Carrigaline cheese, sweet red onion marmalade and tangy mustard mayonnaise on sourdough.
The pairing marries the bold flavours of Guinness with the natural smokiness of the smoked Carrigaline cheese, which is smoked with locally sourced Beechwood, to accentuate the roast barley character of the beer.
The rich and dark flavours of the Guinness balance the distinctive sweetness of the red onion marmalade while the creamy texture of the beer enhances the gooey smoothness of the melted cheese.
Announcing the festival programme, Paul Carty, Managing Director, Guinness Storehouse said: "Guinness has an intrinsic link to St. Patrick's Day – and what better place to join the uniquely inclusive celebration than the Guinness Storehouse, the global home of Guinness.
Both are steeped in heritage, and the Guinness Storehouse captures the true spirit of the day, through the simple act of getting together with friends and raising a glass to the shared values of celebration, pride and friendship. This year, we have an amazing line-up of entertainment and unique Irish experiences including Guinness and food pairings specially created for the celebrations."