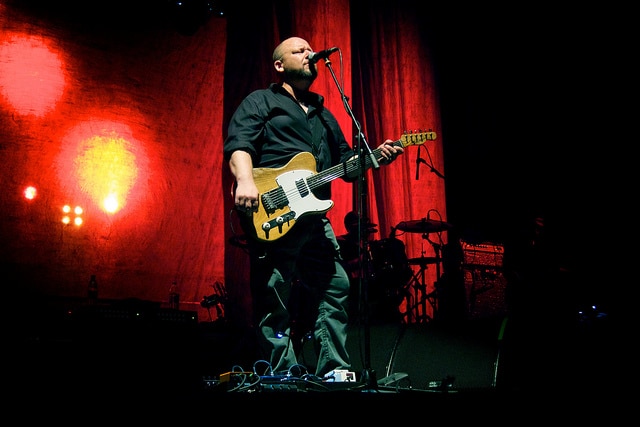 Pixies's frontman Frank Black is putting out a gargantuan box-set of one of his side projects.
Frank Black and The Catholics announce that all their songs from 1998 – 2003, have been specially remastered from their original live two-track recordings.
The band were formed by Black Francis in 1997 and comprises of Black on vocals, Lyle Workman on lead guitar, David McCafferty on bass and Scott Boutier on drums. Their sound differs from the Pixies, it is more relaxed and stripped back.
The collection includes recordings from the group's 1998 debut album Frank Black and The Catholics, Pistolero (1999),  Dog In the Sand (2001), Black Letter Days (2002), Devil's Workshop (2002) and Show Me Your Tears (2003).
Speaking about the release, Black says: "It feels like an approximation of randomness and its a way to randomise something, especially if its titles. We get away from the preciousness of LPs we put out and its more about the body of work, the good times that we had."
The seven-disc compilation comprises of more than 120 songs, all in alphabetical order, with the seventh CD, titled True Blue, containing session tracks and "technical demos" from their Black Letter Days album.
Producer of the True Blue sessions, Ben Mumphrey says: "These songs were recorded with the intention of being demos, to be sent to the Catholics band to learn before they traveled to Los Angeles to record the album 'Black Letter Days'."
Watch the trailer for the Frank Black And The Catholics box-set below.
Frank Black and The Catholics The Complete Recordings is due to be released next year on March 20th.
The Complete Recordings track list:
Disc One
01. All My Ghosts
02. Angst
03. Are You Headed My Way?
04. Back To Rome
05. Bad Harmony
06. Bartholomew
07. Belle Isle
08. The Big Hurt
09. Billy Radcliffe
10. Black Letter Day
11. The Black Rider (rock version)
12. The Black Rider (surf version)
13. Blast Off
14. Blizzard 1989 [unreleased]
15. Bullet
16. California Bound
17. Changing of the Guards [unreleased]
18. Changing of the Guards
19. Chip Away Boy
20. Coastline
Disc Two
01. Cold Heart of Stone
02. Constant Sorrow Man
03. A Dab'll Do Ya
04. Do Nothing
05. Do You Feel Bad About It?
06. Dog Gone
07. Dog in the Sand
08. Don't Clip Your Wings
09. Down in the Hole
10. End of Miles
11. End of Miles [unreleased]
12. Everything Is New
13. The Farewell Bend
14. Fields of Marigold
15. Goodbye Lorraine
16. Heloise
17. Hermaphroditos (Is My Name)
18. His Kingly Cave
19. Horrible Day
20. How You Went So Far
Disc Three
01. Humboldt County Massacre [v1/unreleased]
02. Humboldt County Massacre [v2]
03. Humboldt County Massacre [v3]
04. I Gotta Move
05. I Love Your Brain
06. I Need Peace
07. I Switched You
08. I Think I'm Starting to Lose it
09. I Want Rock & Roll
10. I Will Run After You
11. I Will Run After You [unreleased]
12. I'll Be Blue
13. I'm Going Down
14. I've Seen Your Picture
15. If It Takes All Night
16. Jaina Blues
17. Jane The Queen of Love
18. Jet Black River
19. John the Revelator [unreleased]
20. King & Queen of Siam
Disc Four
01. Le Cigar Volante
02. Living on Soul
03. Living on Soul [unreleased]
04. Llano Del Rio
05. Ludwigshaffen
06. The Man Who Was Too Loud
07. Manitoba
08. Massif Centrale
09. Modern Age
10. My Favorite Kiss
11. Nadine
12. Nadine [unreleased]
13. New House of the Pope
14. Out of State
15. Pan American Highway
16. Pray for the Girls
17. Preacher's Daughter
18. Robert Onion
19. San Antonio, TX
20. The Scene
Disc Five
01. Selkie Bride [unreleased]
02. Selkie Bride [instrumental/unreleased]
03. Show me Your Tears
04. Song of the Shrimp [unreleased]
05. Sister Isabelle [unreleased]
06. Six-Sixty-Six – Larry Norman
07. Skeleton Man
08. Sleep
09. Smoke Up
10. The Snake
11. Snake Oil
12. So Hard to Make Things Out
13. So. Bay
14. Solid Gold
15. Some Things (I Can't Get Used To)
16. Southbound Bevy
17. St. Francis Dam Disaster
18. Steak 'n' Sabre
19. Stupid Me
20. Suffering
Disc Six
01. Sunday Sunny Mill Valley Groove Day [unreleased]
02. The Swimmer
03. Take What You Want
04. This Old Heartache
05. Tiny Heart
06. True Blue
07. Valentine and Garuda
08. Valley of our Hope
09. Velvety
10. Western Star
11. When Will Happiness Find Me Again?
12. Whiskey in Your Shoes
13. Whiskey in Your Shoes [unreleased]
14. We're Such a Wire
15. 21 Reasons
16. 85 Weeks
17. 1826
18. 1826 [unreleased]
Bonus Disk Seven – "True Blue" – alternate versions of songs from Black Letter Days
01. Black Letter Day
02. California Bound
03. Chip Away Boy
04. Cold Heart Of Stone
05. How You Went So Far
06. Jane the Queen of Love
07. Jet Black River
08. Southbound Bevy
09. Western Star
10. The End of Miles
11. The Farewell Bend
12. Valentine and Garuda
13. Whispering Weeds