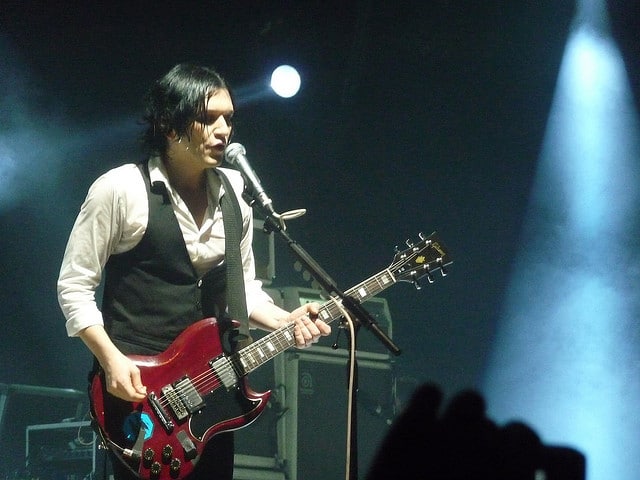 English rock band Placebo were the headline act at the 2014 iTunes Festival last night playing a thunderous set of new and classic songs.
The grunge and punk-influenced group played in north London's Roundhouse as part of the month-long music festival.
The alternative rockers first formed in 1994, releasing seven studio albums since then, all of which have managed to enter the UK Top 20. The most recent Loud Like Love was put out last year.
Placebo are certainly a band you have to hear play live, whether in a club setting or an expansive venue such as Slane Castle, their sound and energy comes across just as well as on record, if not better.
In an interview with Guilty Pleasures, bassist Stefan Olsdal credited their live shows as the reason the band members are still breathing. "I think if we had continued the way we did, we probably wouldn't be here. In the past, a lot of it's a blur and a lot of it was induced in a state i can't remember half of. I play just for survival."
The rockers kicked off their set with the track 'B3' from their 2012 EP. Halfway through their set, before playing their first single 'Too Many Friends' from Loud Like Love, frontman Brian Molko said, "We have had to change some of the names for legal reasons, but I notice some of you are here tonight. You know who you are."
Placebo played some classics such as 'Every You and Every Me,' 'Special K,' and after their thirteen track main set was complete they returned to the stage for an encore, covering Kate Bush's 'Running Up That Hill.'
Watch Placebo's cluedo style video for their song 'Too Many Friends' below. It is narrated by writer Bret Easton Ellis.
Earlier this month, Placebo announced an American tour for the first time in seven years. The band are rumoured to be in the studio recording the follow-up to their 2013 LP.
Placebo set list:
For What It's Worth
Loud Like Love
Every You Every Me
Scene of the Crime
A Million Little Pieces
Too Many Friends
One of a Kind
Exit Wounds
Meds
Song to Say Goodbye
Special K
The Bitter End
Encore:
Running Up That Hill (A Deal with God) (Kate Bush cover)
Post Blue
Infra-red