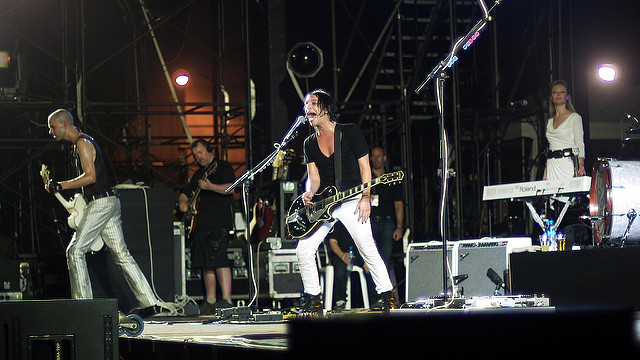 In a recent interview to promote their Greatest Hits tour, Placebo have talked about what they learned from their time spent with David Bowie.
The band kicked off the tour by performing for BBC 6 Music Live at London's Maida Vale yesterday. The band, who worked with David Bowie on their song 'Without You I'm Nothing', discussed working with the late musician. In the interview, Brian Molko said "Spending five years in the orbit of the spaceman, The Thin White Duke, the inimitable David Bowie and learning so much from him when we were babies was a pretty important step," adding, "He was the first person to talk to me about email. Art, music, literature, and just kind of life."
Having previously refused to play some of the songs from their back catalogue, Placebo have said that they are now open to playing some of their old songs. Bassist, Stefan Olsdal explained, "There's been blood, sweat and tears trying to get here today. Our relationship with our past and our back catalogue tends to be a little bit fraught. Looking back, you only see the mistakes really. We always feel that we want to play the new stuff, but if you want to go out and do a retrospective 20 years, then you can't. How do we make the old stuff sound good now? How do we connect to it now? That's been the challenge." Molko added, "Basically, we choose songs that at the end of the day don't make us want to go and throw ourselves under a train.
Placebo will play Dublin's 3Arena on 10 December
Photo Cred: pittaya