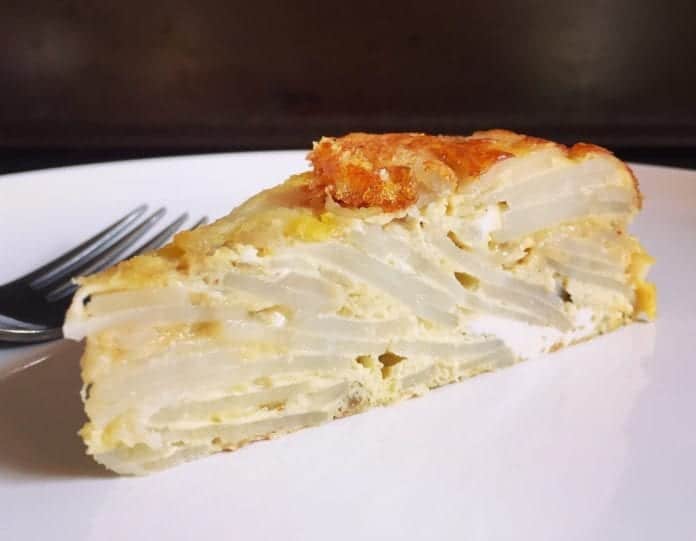 Consider yourself a good cook and think you have what it takes to win a Spanish Omelette (tortilla) Competition? Well then, you can put your skills to the test this weekend.
A discerning panel that includes food writers and chefs will judge the tasty comp. The event takes place as part of Día e Day, the Spanish and Latin American cultural showcase at Instituto Cervantes Dublin, on Saturday, the 24th of June.
The competition takes place from 13.15pm to 2pm (Día e Day) and it's FREE.
If you think you're up for the challange, register your interest at: [email protected]
Spanish tortilla is the diminutive form of torta, cake; this dish is called tortilla de patatas or tortilla española to distinguish it from a plain omelette (tortilla francesa, literally "French omelette"). They are not at all related to the maize or wheat tortilla of Mexico and neighbouring countries, which is a thin flatbread.
Competitors creations' will be judged on: tastiness, thickness, flavour, originality of presentation and seasoning!
There are some pretty awesome prizes up for grabs too with the top prize being a One week Spanish course + accommodation in Castilla y León (Spain)!
Runner-Up Prizes:
Three-course Sunday lunch for 2 people at the Cliff Townhouse (The Cliff Townhouse)
3 Albariño wine bottles, 1 Extra Virgin oil bottle (Commercial Office, Embassy of Spain)
1 free Spanish Olive Oil tasting with Spanish experts at the Instituto Cervantes
1 free Argentine cookery Empanadas workshop at the Instituto Cervantes
1 free 4 month library card at Dámaso Alonso Library – Instituto Cervantes Dublin
1 tequila bottle (Embassy of Mexico)
We're going to get practising! 
For a full programme of the day's events, which are all FREE check out their website www.dublin.cervantes.es