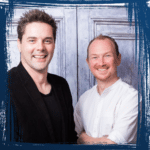 They play the 3Arena this November 29th with The Stranglers, but Simple Minds say there's nothing that can happen at that gig that hasn't happened to them before!
Simple Minds' lead singer Jim Kerr and guitarist Charlie Burchill dropped by the Morning Glory studio for a chat on the upcoming gig and ended up talking about everything from taking baths to musical blessings and the weirdest things fans have ever thrown up on their stage!
Dee and Marty also asked the question: What's Simple Minds' favourite Simple Minds song?!
Hear the answer, and the full chat here: