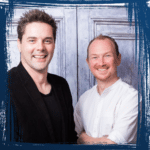 Simple Minds play the 3Arena on November 29th with The Stranglers.
Or should that be Simple Stranglers, The Minds or Strangling Minds? See what Simple Minds front man Jim Kerr had to say when he joined Dee and Marty on Morning Glory.
Everything from arena shows, how The Stranglers inspired them and how you could be at their sound check!