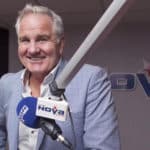 Nova is bringing you the '6 At 6′ each week during Ireland's Six Nations campaign with none other than Brent Pope and our very own Pat Courtenay.
This week the boys discuss Ireland's incredible win over France, THAT drop goal and we'll find out if Brent Pope still believes we can claim the Grand Slam!
And with Italy being up next this weekend in the Aviva expect lots of discussion around the Irish-Italian connection!
Of course, with no Brent on TV this year, Nova is the only place to get your annual 'Popey' fix, and being two Kiwis, Brent and Pat are not afraid to say it as they see it!
No holds barred, no prisoners taken, the '6 At 6' will become the home of honest, excellent punditry. You can expect it to get a little hot and heavy in places!
Oh and you can thank Honda, Power Of Dreams for bringing you the latest podcast.