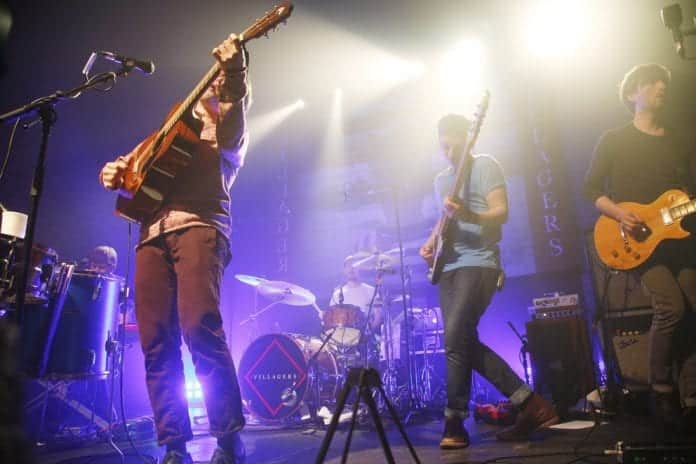 There is major hype around the new HBO series Big Little Lies.
Which is no surprise, because when you see a cast list featuring Oscar winners Nicole Kidman and Reese Witherspoon and Oscar nominated Laura Dern, you know you're onto a winner.
The shows soundtrack is a star of its own. It's the backbone of David E. Kelley's dark drama.
And who features on two tracks? Only our very own Conor O'Brien!
The Irish artist features with one track from his band the Villagers called 'Nothing Arrived' and on another track with his solo performance of 'The Wonder of You'.
Fair play Conor!
The Villagers, formed in 2008. The guys first live performance together was as a support act at Whelan's. However it was in 2010 that the band (Conor O'Brien, Tommy McLaughlin, Danny Snow, James Byrne and Cormac Curran) caught everyone's attention with the release of their debut album, the brilliant Becoming a Jackal.
Released to critical acclaim, the album was shortlisted for the 2010 Mercury Prize and the Choice Music Prize. The band's second studio album, Awayland was released in 2013. It won the Choice Music Prize that year and was also shortlisted for the 2013 Mercury Prize.
And just this January they released their fourth studio album, Where have you been all my Life?
The Big Little Lies soundtrack album will be released on Friday through ABKCO Records.
Check out the soundtrack's track list below:
"Cold Little Heart" — Michael Kiwanuka
"Victim of Love" — Charles Bradley
"Bloody Mother F*cking Asshole" — Martha Wainwright
"River" — Leon Bridges
"Queen of Boredness" — Kinny (feat. Diesler)
"September Song" — Agnes Obel
"This Feeling" — Alabama Shakes
"Changes" — Charles Bradley
"Straight From the Heart" — Irma Thomas
"Nothing Arrived (Live From Spotify London)" — Villagers
"Don't" — Zoë Kravitz
"The Wonder of You" — Conor O'Brien
"How's the World Treating You" — Daniel Agee
"You Can't Always Get What You Want" — Ituana
Picture: Credit: villunderlondon