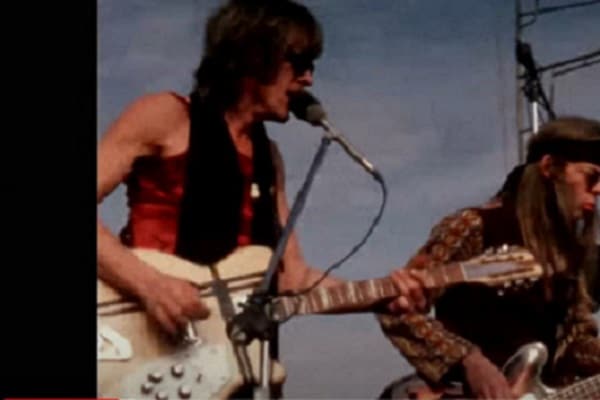 Rare and previously unseen footage of the famous Altamont Music Festival from 1969 has been released.
This footage was released by the Liberty Congress. The festival also features performances from The Grateful Dead, Rolling Stones, Crosby, Nash & Young, Stills, Jefferson Airplane and more.
This Altamont Festival was also attended by 30,000 people.
It also saw its fair share of horrific violence. 18 year old Merideth Hunter was stabbed by Hell's Angels at the festival. He was serving as security at the event.
Altamont "could be a home movie"
Footage of the show had previously been shared on the Maysles Brothers' documentary Gimme Shelter.
However, The Liberty of Congress has shared a home movie that has never been viewed before. It was first acquired by archivist Rick Prelinger in 1996. His 200,000 reel was later given to the library this month.
Despite not having audio, this home footage shows the Rolling Stones, Crosby, Nash & Young, Gram Parsons, Stills and others performing and savouring the atmosphere.
Writing in a blog, Mike Mashon who is the Libary's head of Moving Image Section, said that a technician recently discovered "two reels of silent 8mm reversal positive – a common home movie format" which was accompanied by a handwritten note that read "Stones in the Park". 
"When I saw that, I immediately thought that it could be a home movie of the July 5, 1969, Rolling Stones Hyde Park concert held in London a couple of days after the death of guitarist Brian Jones", Mashon continued. "But it could also be a copy of a documentary of the same name, which would make the discovery considerably less interesting".
"Regardless, I sent the reels up for 2K digitization by our film preservation laboratory. A couple of days later, I heard from some very excited colleagues that the scan wasn't the Hyde Park show. It was from the Altamont Speedway concert in California and it definitely wasn't footage from the 1970 documentary. Many people know the Gimme Shelter documentary pretty well, but there's a lot more in this home movie". 
Check it out below.
Speaking of the Rolling Stones in more recent times, Mick Jagger spoke about how he spends his time winding down from live touring. Find out what he said here.