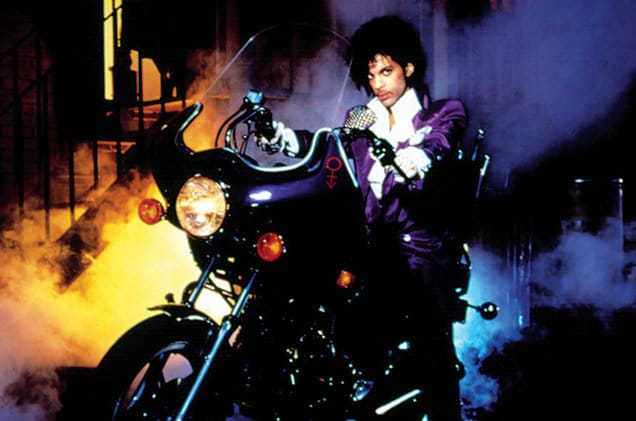 You Can Listen To Prince's 'Purple Rain' In Full Tonight From Midnight Tonight – Purple Rain is the sixth studio album by Prince and was released on June 25th, 1984. Purple Rain is regularly ranked among the best albums in music history, and is widely regarded as Prince's magnum opus. The album reached Number 1 in the US this very day in 1984.
Prince designed Purple Rain as the project that would make him a superstar, and, surprisingly, that is exactly what happened. Simultaneously more focused and ambitious than any of his previous records, Purple Rain finds Prince consolidating his funk and R&B roots while moving boldly into pop, rock, and heavy metal with nine superbly crafted songs.
Even its best-known songs don't tread conventional territory: the bass-less 'When Doves Cry' is an eerie, spare neo-psychedelic masterpiece; 'Let's Go Crazy' is a furious blend of metallic guitars, Stonesy riffs, and a hard funk backbeat; the anthemic title track is a majestic ballad filled with brilliant guitar flourishes.
Although Prince's songwriting is at a peak, the presence of the Revolution pulls the music into sharper focus, giving it a tougher, more aggressive edge. And, with the guidance of Wendy and Lisa, Prince pushed heavily into psychedelia, adding swirling strings to the dreamy 'Take Me With U"' and the hard rock of 'Baby I'm a Star'.
Even with all of his new, but uncompromising, forays into pop, Prince hasn't abandoned funk, and the robotic jam of 'Computer Blue' and the menacing grind of 'Darling Nikki' are among his finest songs. Taken together, all of the stylistic experiments add up to a stunning statement of purpose that remains one of the most exciting rock & roll albums ever recorded.
Tracklist
1. Let's Go Crazy
2. Take Me With U
3. The Beautiful Ones
4. Computer Blue
5. Darling Nikki
6. When Doves Cry
7. I Would Die 4 U
8. Baby I'm A Star
9. Purple Rain
Photo Credit: LynneLuvah