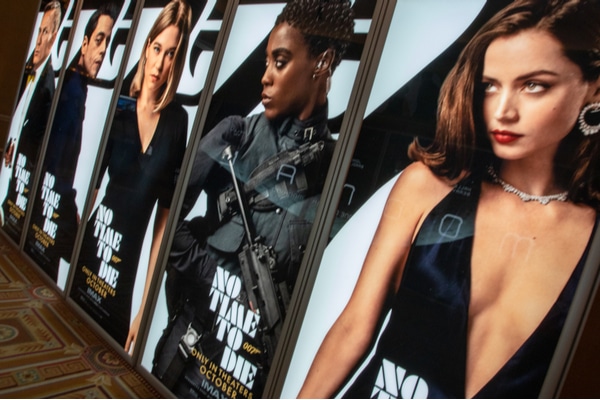 Producers have said that the latest James Bond Installment No Time To Die performed very well at the box office. They also said that it accrued an estimated between €5.2 and 5.8 million during its first full day in the Irish and UK cinemas.
It was also estimated that No Time To Day's box opening was 13% above 2015's Spectre and 26% above Skyfall. This is according to MGM, United Artists Releasing, EON Productions and Universal Pictures International.
The film which sees Daniel Craig star as the suave 007 agent for the last time, arrived in cinemas on Thursday, following a string of delays due to the pandemic.
Alongside Craig, the film also features Bohemian Rhapsody star Rami Maleek, Lea Seydoux and Lashlana Lynch. It is also directed by American filmmaker Cary Joji Fukanga.
The soundtrack is of course written and performed by singer Billie Eilish. While former bandmember of The Smiths, Johnny Marr shared two tracks for the film which feature Hans Zimmer.
These tracks are called "Matera" and "Shouldn't We Get To Know Each Other". 
Check them out here.
Confirming the new via Instagram, Hans Zimmer wrote, "The countdown for #NoTimeToDie is on. We just released two new tracks from the @007 score". 
Marr was also full of praise for the "fantastic" Billie Eilish with whoM he worked on the No Time To Die soundtrack with.
"When I heard the song, I thought 'this is fantastic'. It's very brave, being very minimalist. It's her sound, and then the trick was to Bond-ify it", he said.
The arrival of this film has also undoubtedly provided a huge boost for an industry which has suffered hugely since the pandemic began.
No Time To Die Screenings
Over 30,000 people attended midnight screenings of No Time To Die. The film also sold 1,620,000 advance tickets for the first four days according to the studios.
This also beat Spectre's advance tickets by 12% according to producers.
No Time To Die is also expected to make 90 million dollars (€77 million) over its opening weekend. The film will also be available in countries including Germany, Spain, Brazil, Italy, Mexico, and Japan.