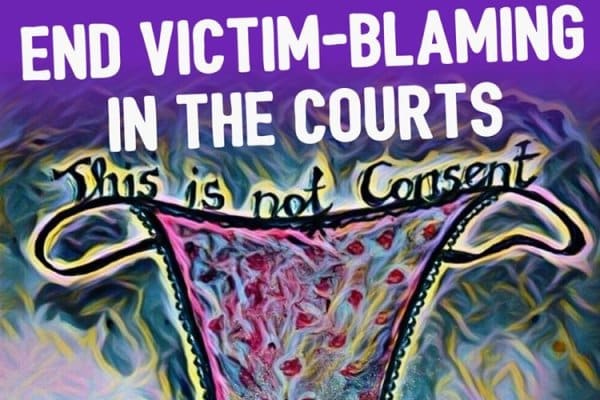 Hundreds of people have turned out for a number of nationwide protests calling for an overhaul in how rape trials are conducted. It follows controversial remarks made in a recent case over a young women's thong.
The rallies are in response to a recent Cork rape trial which saw defence barrister Elizabeth O'Connell argue a girl, 17, was open to "being with someone" because of her choice of underwear.
Women's rights group ROSA lead today's rallies, stating: "These lines of character accusation and victim blaming are unfortunately a common tactic used in cases before the courts relating to sexual violence".
The trial saw the Central Criminal Court jury unanimously conclude that the 27-year-old male defendant was not guilty of raping the 17-year-old girl in an alleyway in Cork.
The jury, comprised of eight men and four women, was told by the defence barrister to take into account the type of underwear the complainant was wearing on the night:
"You have to look at the way she was dressed. She was wearing a thong with a lace front."
Ruth Coppinger addressed the Dublin gathering having yesterday displayed a thong in the Dáil in a call on the government to "make massive legal changes" to end "routine victim blaming going on in Irish courts" in sexual assault cases.
Coppinger noted that women have been continuously discredited in such trials, drawing on cases where fake tan and even contraception were used against them in court.
"Judges and solicitors are using stereotypes that they believe will influence juries potentially so we need to change ideas in society.

"I would say a massive discussion on consent and the sex education bill should be prioritised and let's start in schools."
Rita Harold from Rosa says what women wear is focused on too much in trials and society in general.
"We hear this a lot that you should take steps to protect yourself, in other words, dress conservatively and stay in places that you know are safe.

"That's not real. The reality is that people are assaulted no matter what you wear."

https://twitter.com/RuthCoppingerTD/status/1062730706902761473
A large crowd attend a protest to End Victim Blaming in the Courts, at the Spire in Dublin. Lots of underwear brought with signs saying #thisisnotconsent. #metoo @pa pic.twitter.com/ziSEiJVXsC

— Niall Carson (@niallcarsonpa) November 14, 2018