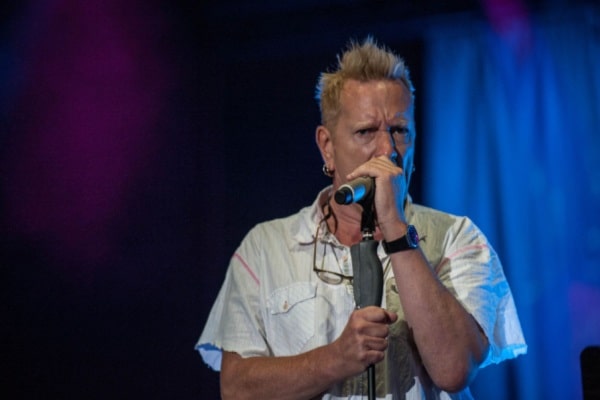 Would you like to listen to the article instead of reading it?
Public Image Ltd have announced a new album, and a UK Tour for later this year.
The band's new album 'End Of World', marks their first record release in 8 years, and will arrive on August 11.
'End Of World' has been dedicated to the late wife of frontman John Lydon, Nora Foster who passed away last week. She had been diagnosed with Alzheimer's Disease 5 years ago.
The album also include's the track 'Hawaii', which was Public Image Ltd's entry for their bid to represent Ireland at this year's Eurovision Song Contest. But the band lost out to Wild Youth.
As a sneak preview of the album, Public Image Ltd also released their opening track 'Penge', which was described by John Lydon as "something of a mediaeval Viking epic".
"change any of our plans"
In a press release for the album, John Lydon said, "Nora loved the album, she wouldn't have wanted us to postpone it or change any of our plans". 
The former Sex Pistols frontman also called 'Hawaii', a "love letter" to his late wife Nora. 
"It is dedicated to everyone going through tough times on the journey of life, with the person they care for the most", Lydon said.
Check out the full tracklist below.
The tracklist for 'End Of World' is as follows:
1. 'Penge'
2. 'End Of The World"
3. 'Car Chase'
4. 'Being Stupid Again'
5. 'Walls'
6. 'Pretty Awful'
7. 'Strange'
8. 'Down On The Clown'
9. 'Dirty Murky Delight'
10. 'The Do That'
11. 'L.F.C.F'
12. 'North West Passage'
13. 'Hawaii'
Coinciding with the album release, Public Image Ltd also announced details for an upcoming UK tour.
Kicking off in Swansea on September 11, the band confirmed 14 other dates for shows across the UK, concluding with a concert at London's O2 Forum Kentish Town at the end of the month.
See the tour dates in full below.
SEPTEMBER
11 – Swansea, Patti Pavilion
12 – Margate, Dreamland
13 – Lincoln, Engine Shed
15 – Blackburn, King George's Hall
16 – Buckley, Tivoli
18 – Sunderland, Fire Station
19 – Aberdeen, Beach Ballroom
21 – Edinburgh, O2 Academy
22 – Manchester, O2 Ritz
23 – Holmfirth, Picture Dome
25 – Coventry, HMV Empire
26 – Brighton, Chalk
28 – Bristol, O2 Academy
29 – Torquay, Foundry
30 – London, O2 Forum Kentish Town