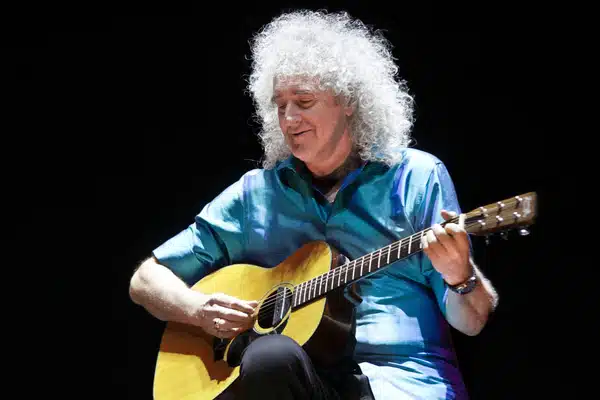 Thanks to a little help from Brian May, a young boy has found his lost guitar.
The guitarist became friends with actor Mazz Murray when she started to appear in Queen musical We Will Rock You. 
The pair began interacting via social media, which led to a lost and found interaction between them, resulting in a young guitarist getting his prized possesion back where it belongs.
"reunite this with his owner"
Murray had noticed a guitar was outside a transit station unattended. She later posted a picture of the guitar online, looking to restore it to its rightful owner. She also tagged May.
May later shared it via his Instagram account, asking if anyone recognises the instrument.
"Did anyone out there lose an acoustic guitar – in a case like this – outside #edgware (sorry – not Edgware Road ) tube station ? What was in case as well as the guitar ? We'd like to reunite this with its owner … @mazzmurray #acousticguitar #lostguitar. Please share out there folks. Bri", May wrote.
The call was eventually answered by eight year old Emerson Liu Bancroft, who correctly identified the Harry Potter and Star Wars sheet music in the case.
Murray who has been starring in Mamma Mia! as Donna at the Novello Theatre, subsequently met with the young boy to return his guitar.
Brian May also said hello to the young boy via Zoom. The guitarist shared a photo of Murray with the thrilled owner via Instagram.
On top of this, Brian May is also set to appear in an episode of UK children's show Andy And The Band which is promoting anti-bullying.
"It was very moving because it's a great story, it's such a lovely look into what happens to kids and how they lose their confidence and what can be done", May said.
This episode will air on February 18. More on this here.