Radio Nova and Focus Ireland are completely bowled over by the final total raised in the recently held Radio Nova Radiothon.
The outpouring of support was incredible and we're delighted to announce the total raised during the two day 'Help Our Homeless' Radiothon is an amazing €74,553.
The two-day charity event saw the Dublin station turn over its airwaves to raise vital funds from donations from the public and local businesses.
This is the fourth year of the Radiothon and Nova chose Focus Ireland as its charity partner. Focus Ireland works with people who are homeless or are at risk of losing their homes across Ireland.
Last year the charity supported over 700 households to move out of homelessness. However, the overall annual government figures for 2017 show a 17% increase in family homelessness. There was also a shocking 23% increase in the number of children homeless during this same period.
Nova CEO Kevin Branigan said: "We are completely blown away by the generosity of our listeners. Raising over €74,000 shows how important this issue is to the average Dubliner. This amount of money will go a long way to changing lives."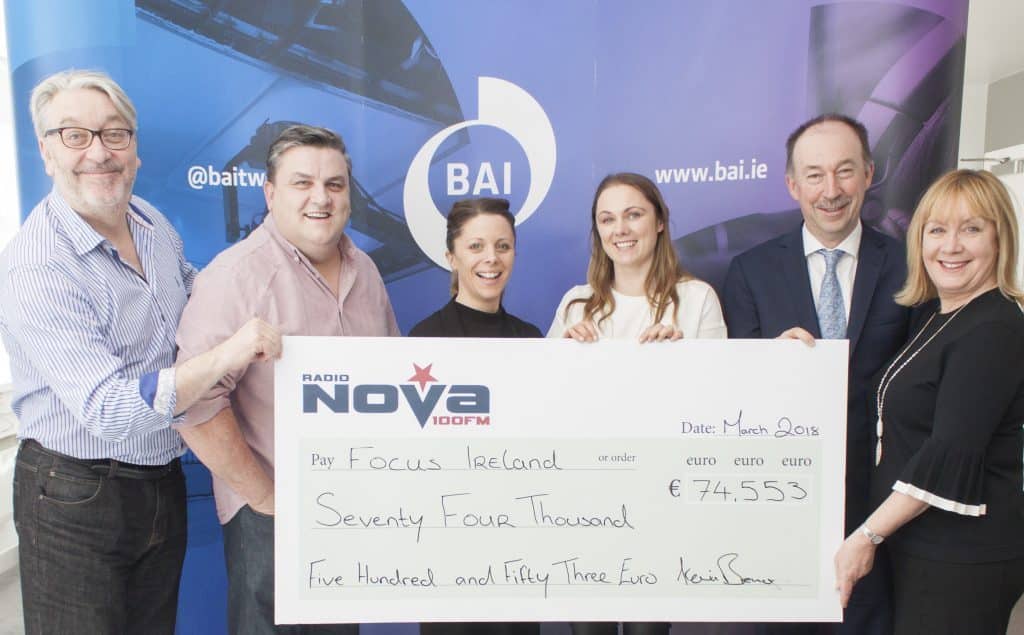 There was also a fantastic amount of funds raised from the 45 Applegreen stores based in Wicklow, Dublin, Meath and Kildare, organising collections in store for the two days.
Focus Ireland is one of Applegreen's new charity partners for 2018 and 2019. Applegreen's support allows Focus Ireland to work with more young people to ensure they reach their full potential and have the highest impact in preventing young people from becoming homeless.
A host of celebrities offered their support to the charity event including, Simon Delaney, celebrity chef Derry Clarke, professional snooker player Ken Doherty, TV3 Presenter Glenda Gilson, Rugby Pundit Brent Pope, comedians Ed Byrne, Kevin McGahern, Fred Cooke and Karl Spain.
Radio Nova and Focus Ireland would like to thank everyone who donated to our most successful Radiothon so far.
Over 30 Bord Gáis Energy staff, as part of their ongoing partnership with Focus Ireland, volunteered their time during the course of the two days to ensure we could answer as many calls as possible too.
A massive thank you to all who took part, donated and helped the homeless.