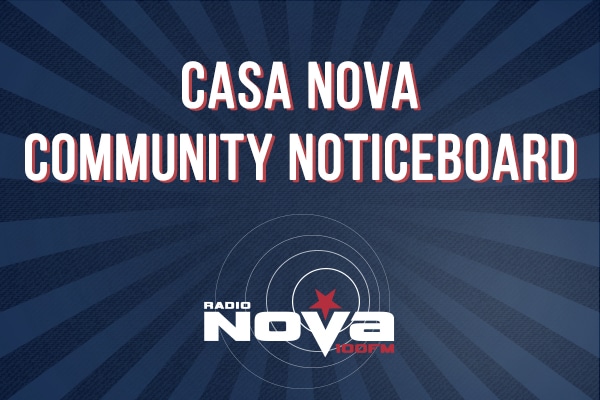 CASA NOVA is a community noticeboard on Radio NOVA.
An invitation to you to get in touch and tell us about an event, fundraiser, online class, or community initiative happening in your area.
Whatever it is, we want to know!
Just email us the details at: [email protected]
It's all part of Radio NOVA's 'Road To Well' offering support to those who need it most.
OCTOBER
The Virtual Great Pink Run Oct 17th & 18th – Due to Covid19, they have made the decision to make the Great Pink Run a virtual event and need your support more than ever!
They are asking you to help them run the circumference of the globe for Breast Cancer this October.
Run, jog, walk or wheel, the more KM you log, the quicker they can reach their goal of turning the world pink for Breast Cancer.
More info at www.greatpinkrun.ie
One for the Books The Red Line Book Festival will go ahead this year despite government restrictions, with a reimagined programme of online events, taking place this week from 12-18 October.
An initiative of South Dublin Libraries and Arts, the Red Line Book Festival has returned, despite some challenges – due to the Covid-19 pandemic – with an ambitious online programme.
Immerse yourself in conversations, stories and workshops virtually and in-person, from some of the biggest Irish and international names in literature.
More info redlinebookfestival.ie
This Halloween, the films are coming from inside the house… as the bloodiest event in the Irish film calendar, IFI Horrorthon, goes online nationwide on the IFI's new video-on-demand platform IFI@Home – www.ifihome.ie – for its 2020 edition.
The festival, which opens on Thursday, October 22nd will present 22 features from around the world, plus a special recorded Q&A with the legendary Joe Dante, director of beloved classics including Piranha, Innerspace and Gremlins.
More info at www.ifihome.ie
While Halloween may be somewhat different this year, Children's Health Foundation Temple Street and MiWadi are urging everyone across Ireland to get behind the fundraiser and have some socially-distanced and safe fun while making a contribution to support the magic that happens every day in Temple Street children's hospital.
From hosting virtual scary movie nights or spooky fun in school and creches to trying out some fun magic tricks for friends and family – there are so many ways to get into the Halloween spirit and raise vital funds for sick children.
To register for a free personalised 'Trick or Treat for Temple Street' Party Pack, which includes posters, balloons, stickers and much more see www.templestreet.ie/trickortreat
Shine a Light Night takes place on Friday 16th October 2020!
This year, we are asking business leaders, companies, and people all over Ireland to sleep-out safely in their home, garden, or workplace to help raise vital funds for people experiencing homelessness.
Join us virtually on #ShineALightNight for a shared digital experience and host a virtual sleep-out in aid of Focus Ireland.
More info at shinealight.focusireland.ie