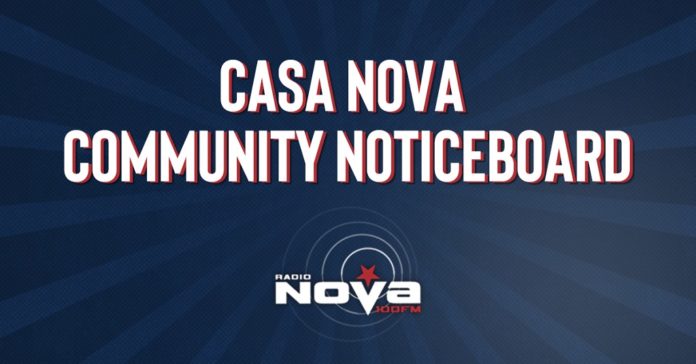 CASA NOVA is a community noticeboard on Radio NOVA.
An invitation to you to get in touch and tell us about an event, fundraiser, online class, or community initiative happening in your area.
Whatever it is, we want to know!
Just email us the details at: [email protected]
It's all part of Radio NOVA's 'Road To Well' offering support to those who need it most.
JUNE
Tayto Park, Ireland's only theme park and zoo, is delighted to announce that its theme park attractions is now open with limited capacity.
Tickets are available to purchase now from www.taytopark.ie.
The health and safety of Tayto Park guests, staff and the animals in its care is of the utmost importance.
With that in mind, Tayto Park has carried out a full analysis of all the attractions and experiences and initially admissions to the theme park and zoo (pre-booked ticket only) will be at a reduced capacity in line with health and safety protocols.
The Dublin Simon Community challenges the public to live without something for 17 hours on the Longest Day (21 June) of the year.
They are calling on the public to make a sacrifice for one day and help those experiencing homelessness.
The charity are asking people to raise a euro per hour for the item they give up. People can also challenge a friend, family member or colleague to sacrifice something they love for one day.
More info at www.dubsimon.ie
This summer, Dún Laoghaire's streets and lane-ways will be brightened by a host of artworks which will be presented as part of the Dún Laoghaire Anseo #streetart project. #dlanseo.
Meaning "here" in Irish, Dún Laoghaire Anseo is Dun Laoghaire Rathdown County Council with the assistance of Creative Ireland way of letting everyone know, after everything that's happened over the last year, that we're still here.
Bringing together the best in contemporary street art, with a mixture of established, up-and-coming, and local artists, they are very excited to be bringing the first project of its kind in dlr to the walls of Dún Laoghaire town from June 22nd -28th .
On Friday 25th June homelessness charity Depaul will host their 2021 Sleep Out event.
Businesses, community groups and people across Ireland are being asked to swap their beds for sleeping bags, brave the weather, (yes this is an Irish summer) and sleep out in their gardens to raise vital funds to support people who are homeless or at risk of homelessness and help raise awareness.
To find out more or to register for this event check out   ie.depaulcharity.org
Registration for Vhi Virtual Women's Mini Marathon is now open!
Enter today and walk, jog or run 10k on 19th September 2021!
Join from ANYWHERE IN THE WORLD and Race the Real Route using their Brand New Event App.
Exclusive Vhi Women's Mini Marathon Finishers T-shirt and medal for all entrants.
More info at www.vhiwomensminimarathon.ie