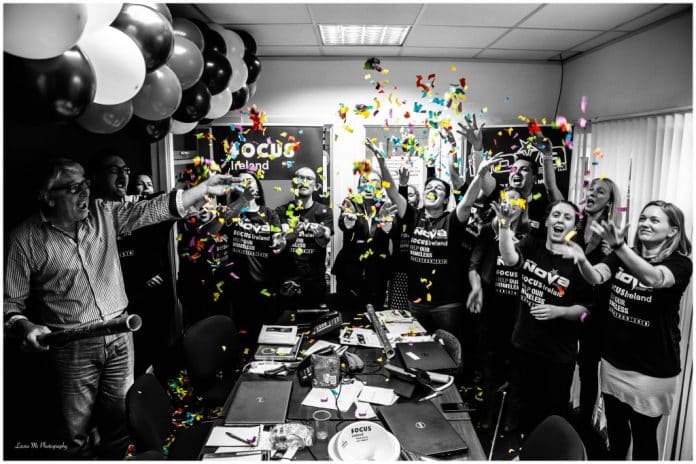 Radio Nova has raised €86,656 for Focus Ireland in its 2019 'Help Our Homeless Radiothon'. The on-air pledge drive took place over two days – March 13th & 14th – and saw the station raising funds to fight homelessness from listener donations and pledges from local businesses and organisations.
It's the 5th year of Nova's annual Homeless Radiothon, with the station raising almost €300,000 to date. Last yearm Focus Ireland supported over 400 families to move out of homelessness. However, the latest figures show that there are now a record total of 9987 men, women and children homeless.
The Radiothon saw a host of well know faces offer their support to the charity event including, broadcaster and comedian Simon Delaney, Irish band Aslan and The Riptide Movement, TV host Dermot Bannon, musician Bressie, and comedians Jason Byrne and Kevin McGahern, with the station broadcasting live from Dawson St. for the duration of the event.
In addition to donations from listeners, the Radiothon was once again supported by Applegreen, with 50 stores across Dublin, Kildare, Meath and Wicklow taking part by placing donation units across the stores for the two days.
In addition, for the first time, the Radiothon featured the 'Friends of Radio Nova', an initiative that saw more than 40 local businesses, organisations and individuals taking part by organising collections and events to support the fundraiser by hosting charity cake sales, coffee mornings and placing donation boxes in their companies to raise funds for the Radiothon.
Nova's CEO, Kevin Branigan, said, "We're blown away by the support we've received from our listeners in raising even more funds for such an important cause as homelessness. Media operations have a huge role to play in helping organisations like Focus Ireland raise funds to tackle the plight of homelessness in our country and we're glad to play our part".
The Homeless Radiothon was supported by media coverage from organisations such as PML Group, Wide Eye Media, Micro Media, The Pictureworks, Exterion Media, Orbscreen, The Irish Daily Mail, Ad Tower, Packed.House, Facebook, Google, Sunday Business Post, Entertainment.ie, Beaut.ie, Applegreen, The Phoenix, The Gazette, Courses.ie/Nightcourses.com and more.