Ticket girl was out in force this morning, flying around Dublin's city centre.
It was announced on Morning Glory that none other than Mr  Billy Idol is set to perform in Vicar St this coming November.
We decided that since we had five special edition, front row seats to the gig, there was only one person who would take care of handing them out.
Radio Nova's Ticket Girl.
Ticket Girl headed off in her Radio Nova Harley helmet, red velvet cape and brand spanking new, shiny, blue bicycle to the streets of Dublin.
After having a quick chat with Dee and Marty she let listeners know that she would be Tweeting pictures of her whereabouts as clues.
Not just anyone could bag the tickets though, once Ticket Girl was approached, the line "It's a lovely day for a free ticket" had to uttered to the bike riding crusader.
The first clue was O'Connell Bridge and a Mr Stephen Rigney snapped up the first pair quicker than you can say 'superhero'. Stephen left his office and dashed through moving traffic to grab his glory.
This time Radio Nova listeners managed to outsmart Ticket Girl as she never got around to the other landmarks – all the tickets were snapped up by a swarm of screaming Billy Idol fans.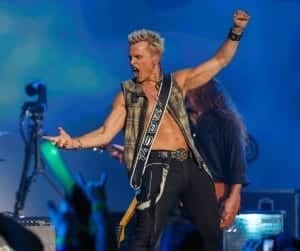 Keep listening to Morning Glory because Ticket Gal will strike again… very soon.