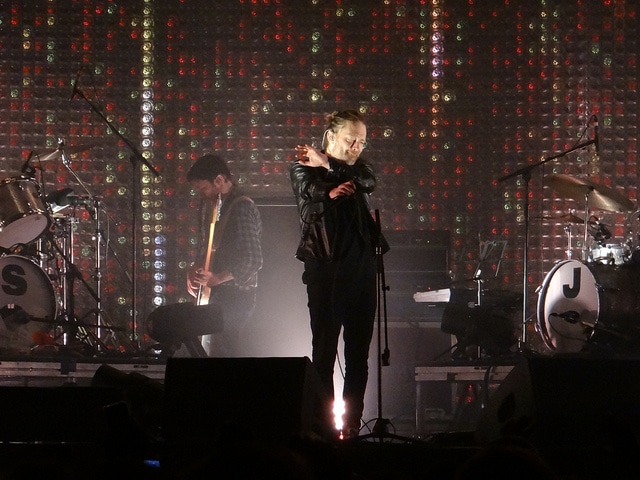 Radiohead have updated their official app with new artwork and music.
The app called Polyfauna, was first launched earlier this year. The original app featured sessions from the band's latest record The King Of Limbs.
It also included imagery and sounds from the song Bloom. Radiohead said the app, "comes from an interest in early computer life-experiments and the imagined creatures of our subconscious." "Your screen is the window into an evolving world," Yorke said of the app's aim.
Over the weekend, Thom Yorke posted a string of drawings and sketches on Twitter. Rolling Stones reports that, Polyfauna has been given an exciting overhaul, including new artwork and previously unreleased music.
The new music features Thom Yorke harmonizing over instrumentals, and could be an indication of the sound of the group's new ninth studio album. The music contains elements of dubstep, 2-step garage, ambient and house music, not too dissimilar to a musician such as Burial.
Radiohead will start work on the followup to 2011′s album The King Of Limbs this month, according to guitarist Jonny Greenwood.
In an interview with BBC Radio 6′s Mary Ann Hobbes, Greenwood said, "We're going to start up in September, playing, rehearsing and recording and see how it's sounding."
The band have been enjoying time off this year to focus on solo projects. Thom Yorke has been recording and touring with Atoms For Peace.
Greenwood has been working with film director Paul Thomas Anderson (There Will Be Blood, Boogie Nights) scoring the director's new film 'Inherent Vice'.
Radiohead's drummer Phil Selway, has been recording his second solo album Weatherhouse, due out in October 2014.
Check out the some of the artwork below.
— Thom Yorke (@thomyorke) August 29, 2014
— Thom Yorke (@thomyorke) August 30, 2014
— Thom Yorke (@thomyorke) August 30, 2014
— Thom Yorke (@thomyorke) August 30, 2014
— Thom Yorke (@thomyorke) August 30, 2014
— Thom Yorke (@thomyorke) September 1, 2014