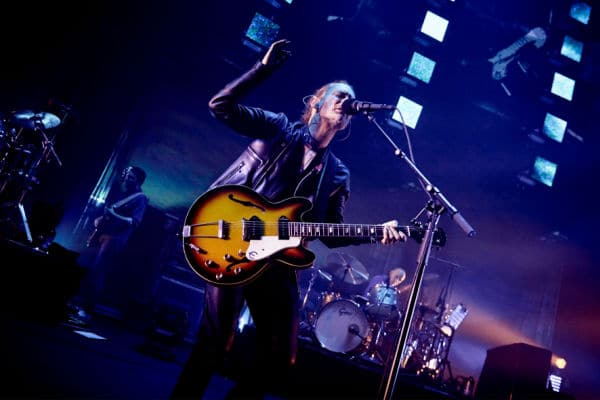 Would you like to listen to the article instead of reading it?
Radiohead drummer Phil Selway has confirmed that the band are going to "get together" this year.
While they have not released a studio album since 2016's 'A Moon Shaped Pool', Radiohead did release a triple album, celebrating their 'Kid A' and 'Anmesiac' records, called 'KID A MNESIA'.
That album also included a third disc of rarities and B-sides called 'Kid Amnesiae'. Radiohead have not toured since 2018.
"We've been very focused on the whole 'Kid A'/'Amnesiac' thing, and I think that's coming to its natural conclusion, going back through the reissue and [creating] the game scenario around that", Selway said of the triple album.
"get together"
2023 does mark 20 years since Radiohead released their LP 'Hail To The Thief', and Phil Selway spoke in a fresh interview about the band's plans for the coming year.
"We're going to get together at the start of [2023], and I'm sure we're going to start looking at other ideas for what comes next. 'Hail To The Thief' — it's a long time since that record, isn't it?", he said.
"might happen"
Selway's comments, come after Radiohead bandmate Ed O'Brien spoke of the band's future last Summer.
"It might happen, but the other thing is… it might not. And does that matter?", he said.
"There's no Radiohead at the moment," he continued. "There's a truth to what we do, so we're not going to be one of those bands that gets together for the big payday".
"The thing with Radiohead, we could do something in a couple years. We might not. But I think what it has to be, it has to be five people going, 'I really want to do this again with you.' And I think at the moment, because we've done it for so long, we're all reaching out and having different experiences. And that should be allowed, and that should be encouraged".
Another Radiohead bandmate, lead vocalist Thom Yorke kept quite busy in 2022, releasing a new track for hit series 'Peaky Blinders'. Check it out here.