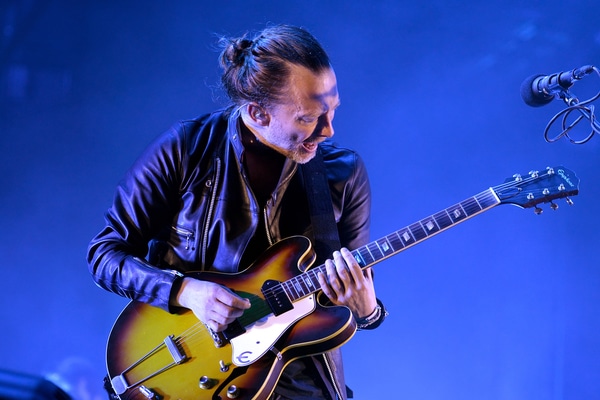 More than two decades after its creation, Radiohead have finally released a studio rendition of Follow Me Around, from the upcoming box set Kid A Mnesia. The track is among other previously unreleased recordings set to appear on the upcoming boxset, alongside a collection of B-sides and rarities. Featuring in the 1998 Radiohead documentary, Meeting People Is Easy, the track has also featured in 2017, with Yorke and Greenwood performing at an Italian benefit show.
The release of Follow Me Around is accompanied by a video starring Guy Pearce bringing the lyrics "Nowadays I get panicked/I cease to exist" to reality. The former Neighbours character frantically runs around his apartment, avoiding a chasing camera.
Taking to Twitter, Pearce revealed he was included in the video: "It's not every day you find a free working toaster on the side of the road. It's also not every day you get to be in a Radiohead video clip. Both happened a few weeks ago. Thankfully my son (Monte) was there 4 the toaster, which he appreciated each day afterwards. He likes the clip 2."
With Kid A Mnesia focusing on the sessions for the sister masterpieces Kid A (2000) and Amnesiac (2001), Follow Me Around predates this period. During the Ok Computer-era documentary Meeting People Is Easy, Radiohead can be seen working through the track.
The track had also been written about within a diary entry of guitarist, Ed O'Brien, dated July 28th, 1999. "It may well be that because we are working on completely new material it seems that we have not moved much today, like yesterday," he wrote. "But we discussed 'Follow Me Around', and how we would like to approach it, rather than just start playing and thereby fall into old habits."
This track follows the unreleased If You Say the Word, released by Radiohead in September, alongside a Kasper Häggström-directed video. Releasing November 5th, Kid A Mnesia is set to include reissues for Kid A and Amnesiac, and a special 3rd disc containing unreleased tracks, outtakes, and alternate versions titled Kid Amnesiae.