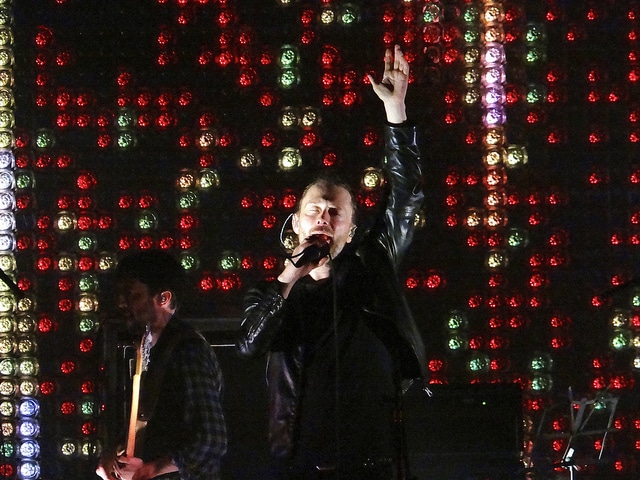 Radiohead are back working hard on new material, the band's producer Nigel Godrich has posted a photo of the Oxford lads in the studio.
The picture of singer Thom Yorke and guitarist Jonny Greenwood, captures the musicians deeply concentrating rearranging wires in their recording studio.
Last month, Greenwood confirmed that the group are back in the recording songs for their upcoming album.
The group's last record was 2011′s album The King Of Limbs, in the intervening years the band members have gone their separate ways, working on various different projects.
Speaking to BBC Radio Oxford, Greenwood said that the band are experimenting with a number of different approaches, though they're still in the infancy.
The guitarist explained that "working with Radiohead is all about repetition and working slowly".
He said: "It always feels when we start up like we still don't know really how to do it, and we don't know quite what to do. 'Looking down avenues' is a very kind way of putting the kind of fumbling that we do, mainly because every time we try and do it like the last time – because that worked – it never seems to work. So we talk about different approaches and we're currently trying a bunch out."
"I'm late, they've all gone there now. We're currently playing and recording and it's fun to see everyone again, it's been a long time coming, we've been waiting all of us for a long time."
Jonny has been working with film director Paul Thomas Anderson (There Will Be Blood, Boogie Nights), scoring the director's new film 'Inherent Vice'.
The guitarist previously worked on Anderson's film 'The Master', starring Philip Seymour Hoffman and Joaquin Phoenix, the soundtrack featured 11 original compositions by Greenwood. He also wrote the chilling score for Anderson's 2007 release 'There Will Be Blood'.