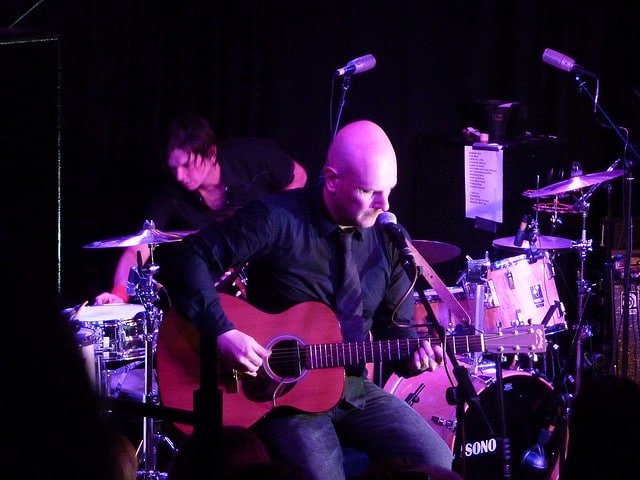 Radiohead's drummer Phil Selway has been hard at work on his forthcoming solo album. The new record titled Weatherhouse, will be released in the next few weeks.
Weatherhouse is a follow up to Selway's 2010 solo debut Familial and his first output since his Running Blind EP in 2011.
The new album is a collaboration with musicians Adem Ilhan and Quinta, who have previously performed in Selway's backing band. The LP was recorded in Radiohead's studio in Oxfordshire.
In a statement, Selway said, "From the outset we wanted the album to be the three of us, and we covered a lot of instruments between us. With a studio full of inspiring gear and a great-sounding desk, we felt like a band. Different musicians stretch you, and I felt stretched on 'Weatherhouse', but very enjoyably so."
Selway is streaming his current single 'It Will End In Tears', a stripped back simple piano track. Listen to it below.
Radiohead will start work on the followup to 2011′s album The King Of Limbs this month, according to guitarist Jonny Greenwood. "We're going to start up in September, playing, rehearsing and recording and see how it's sounding."
Radiohead recently updated their official app with new artwork and music. The new music features Thom Yorke harmonizing over instrumentals, and could be an indication of the sound of the group's new ninth studio album. The music contains elements of dubstep, 2-step garage, ambient and house music, not too dissimilar to a musician such as Burial.
Weatherhouse is due out October 7th via Bella Union Records.
Weatherhouse track list:
01. Coming up for Air
02. Around Again
03. Let It Go
04. Miles Away
05. Ghosts
06. It Will End in Tears
07. Don't Go Now
08. Drawn to the Light
09. Waiting for a Sign
10. Turning It Inside Ou