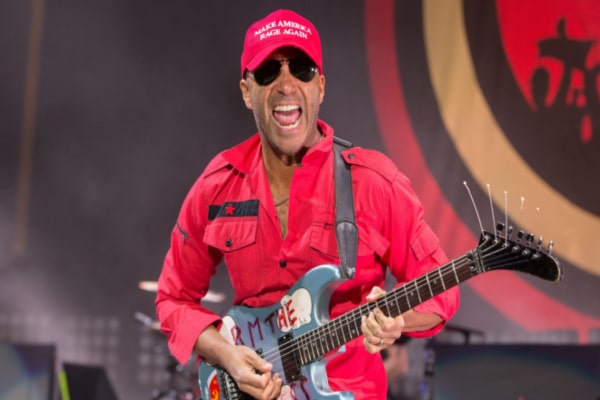 Rage Against The Machine have performed 'No Shelter' for the first time in 15 years.
The band performed this track during their second show at Chicago, as part of their 'Public Service Announcement' Tour.
The tour had been delayed several times due to the pandemic. This show took place at Chicago's United Center.
The track was released as part of the soundtrack of 1998 classic Godzilla film. It also appeared as a bonus track on the Japanese and Austrailian editions of the band's studio album, 'The Battle Of Los Angeles'.
The album was also released in 1999.
The setlist also saw Rage Against The Machine perform 'No Shelter' instead of 'Tire Me'. They also cut 'Down Rodeo', in exchange for 'Vietow'. Both tracks featured on the band's 1994 'Evil Empire' album.
Check out the performance of that track for yourselves below.
Rage Against The Machine Frontman Injures Leg On Stage 
As mentioned, this performance took place during Rage Against The Machine's second show at Chicago's United Center.
On the first night, the band's frontman Zack De La Rocha appeared to injure his leg while on stage.
The frontman sustained the injury, while singing the track 'Bullet In The Head'.
Following a break, the band performed 'Testify' not before De La Rocha addressed the crowd.
"I don't know what happened to my leg right now," he told the audience, "Straight up, but you know what? We're gonna keep this fucking shit going". 
He added, "I can crawl across this stage. We're gonna play for you all tonight". 
De La Rocha performed on stage hobbling, or leaning by the stage monitor for the rest of the show. More on this report from Nova here.
Last year, Rage Against The Machine's Tom Morello also joined forces with Eddie Vedder and Bruce Springsteen to cover AC/DC's Highway To Hell. Check that out here.