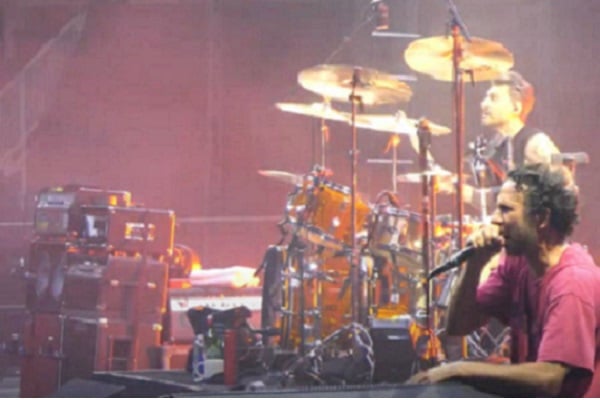 Zack De La Rocha appeared to injure his leg during Rage Against The Machine's show in Chicago earlier this week.
The show was also part of the band's highly anticipated reunion show. This tour had been previously delayed due to the pandemic, as the US battled the Omicron variant.
"The Rage Against The Machine 'Public Service Announcement' North American Tour with Run The Jewels will now start on July 9, 2022 in East Troy, Wisconsin," a statement released on social media reads. "Headline shows scheduled for March 31, 2022 through May 23, 2022 will be postponed and rescheduled. All tickets for the moved dates will be honoured. For fans wishing to obtain a refund for the postponed dates, refunds are available for a 30-day window from the point of purchase only, starting today".
"We're gonna keep this f*****g s*** going" – De La Rocha
The Rage Against The Machine frontman De La Rocha appeared to injure his leg. This happened four songs into the show, while the band were performing 'Bullet In The Head'.
Following a brief break, Rage Against The Machine performed 'Testify'. De La Rocha appeared on stage, either hobbling or leaning against an on stage monitor.
Ahead of the band's performance of Testify, De La Rocha explained to the audience about his injury.
"I don't know what happened to my leg right now," he told the fans, "Straight up, but you know what? We're gonna keep this fucking shit going".
"I can crawl across this stage. We're gonna play for you all tonight", he added.
Se lesionó Zach de la Rocha, vocalista de Rage Against the Machine, durante un concierto en la ciudad de Chicago, en Estados Unidos. La gran parte de esa presentación la hizo sentado. #AhoraMás con @UrielEstradaTV pic.twitter.com/X73xkBjyoD

— Ahora Más (@ahoramasoficial) July 12, 2022
See footage from this live performance and even the moment De La Rocha addressed the audience here.
Meanwhile last December, Rage Against The Machine's track 'Killing In The Name' was voted the UK's favourite Christmas number one.
The band earned their festive number one in 2009, following a campaign to stop the X Factor from earning the prize for a fifth year running. More on this from Nova here.