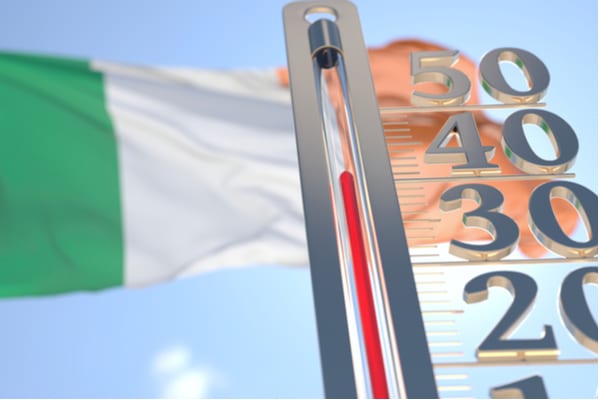 Temperatures are to hit 30 degrees in some counties today, it has been reported.
A Status Orange warning has been put in place for South Leitrim, Cavan, Monaghan, Westmeath, Roscommon and Longford. This warning is in place until Friday morning.
It is also expected that temperatures will exceed 30 degrees in these places, with overnight temperatures dropping no lower than 20 degrees.
A Status Yellow warning is in place for the rest of the country. Met Éireann predicted, "hot conditions by day and staying very warm and humid at night".
Met Éireann have also said that today will remain mostly dry and sunny. They did also add that the high temperatures may lead to some thundery shows across Connacht and Ulster in the afternoon.
Highest temperatures are to range between 27 and 30 degrees, with inland areas experiencing hotter conditions.
High temperature warnings are in place across Ireland until at least Friday, with temperatures expected to exceed 30 Celsius by day & remain around 20 C overnight for some locations.

Remember to be #SunSafe & #BeSummerReady pic.twitter.com/Svp8gSN4pT

— Met Éireann (@MetEireann) July 20, 2021
New records for temperatures
Evelyn Cusack, Met Éireann's head of forcasting said these hot weather conditions are in place across Ireland. New July records were also set at some stations last weekend.
She also added that a tropical night is defined by the World Meteorological Organisation, as a night where air temperatures do not drop below 20 degrees.
She said, "We've been close to that and we do expect that in places… it could reach 30C or 31C almost anywhere". 
Cusack also added these temperatures are expected for the coming days.
Meanwhile, an Amber weather warning has also been put in place for Northern Ireland.
☀️ Solar UV index for Wednesday ☀️

UV levels will be high in clear skies today. Please follow @HseNCCP for advice and stay #SunSmart 😎🧴⛱️

More on the UV index here 👇https://t.co/HPryW0cMDo pic.twitter.com/AXPcZ9n3MY

— Met Éireann (@MetEireann) July 21, 2021
In the midst of these hot conditions, Clare GP Dr Máire Finn also urged parents to make sure that their children take regular breaks during these hot days.
She also said that levels of heat stress can lead to children feeling uncomfortable and lethargic. If it is not managed properly, children could suffer from heat exhaustion.
Dr Finn also said that parents can provide dioralyte and home made iced lollies for children. She also reccomended parents put cordial in their children's drinks to help them cool down.
More on this here.