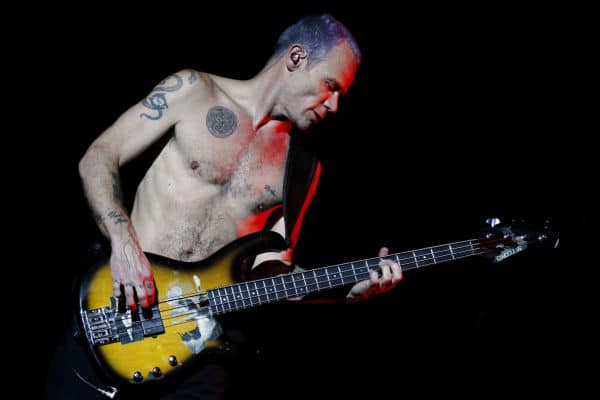 Red Hot Chili Peppers bassist Flea is launching his very own podcast.
Titled This Little Light, the podcast will see the bassist explore the early years of some of the music industry's biggest names, early influences, and inspirations which shaped their journey as musicians.
Running for 15 episodes, profits made from this podcast will also go towards the Silverlake Conservatory of Music, a non profit LA music school which Flea founded in 2001.
"falling in love with music"
The first of these episodes which begins on March 30, sees Flea speak to Patti Smith, Rick Rubin, jazz/soul/R&B bassist Thundercat, along with country singer Margo Price and more.
On this podcast, Flea released this statement.
"I wanted to do This Little Light to benefit my music school, the Silverlake Conservatory of Music", he said.
"The idea behind it being music education, falling in love with music and embarking on a musical journey for your life. Everybody's path is so different, and it's fascinating to learn how every musician came to music and developed their study of it over time". 
Elsewhere, Flea and the rest of Red Hot Chili Peppers are to also embark on a major world tour to support their albums 'Unlimited Love' and 'Return of the Dream Canteen', which were released last year.
The band begin the North American leg of their tour in Vancouver, Canada in March, with the European leg kicking off in June.
In May, the band are to also headline the anniversary of Bottlerock Napa Valley Festival, which also includes acts, Duran Duran, Smashing Pumpkins, Lizzo, and Post Malone. More on this from Nova here.
Last August, Flea revealed that he is not overtly keen on fans who approach him, looking for a photo, describing it as a "transaction", as opposed to "something meaningful".
He made these comments during an online debate. Find out more here.