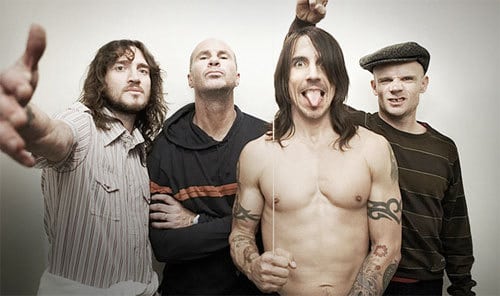 The band have confirmed that their instruments were not plugged in during their performance at the Superbowl half time show.
They band were guests of Bruno Mars at the prestigious half time show at New Jerseys Met Life Stadium. The performance attracted the largest audience in the history of the sporting event, pulling in 115.3 million viewers.
In a message on the bands website, bass guitarist Flea explains that the bass, drums and guitar were not amplified or plugged in, but the vocals were.
He wrote that the band were offered no other option by Super Bowl organisers NFL, and following careful consideration decided to go ahead and appear at the event in spite of having to mime.
"When we were asked by the NFL and Bruno to play our song Give It Away at the Super Bowl, it was made clear to us that the vocals would be live, but the bass, drums, and guitar would be pre-recorded".
"So, when this Super Bowl gig concept came up, there was a lot of confusion amongst us as whether or not we should do it, but we eventually decided, it was a surreal-like, once in a life time crazy thing to do and we would just have fun and do it… We decided that, with Anthony singing live, that we could still bring the spirit and freedom of what we do into the performance, and of course we played every note in the recording especially for the gig."
"I am grateful to the NFL for having us. And I am grateful to Bruno, who is a super talented young man for inviting us to be a part of his gig. I would do it all the same way again. We, as a band, aspire to grow as musicians and songwriters, and to continue to play our guts out live onstage for anyone who wants to get their brains blown out.
Sincerely
Flea".
See the Flea's full message on the Chilli Peppers website here