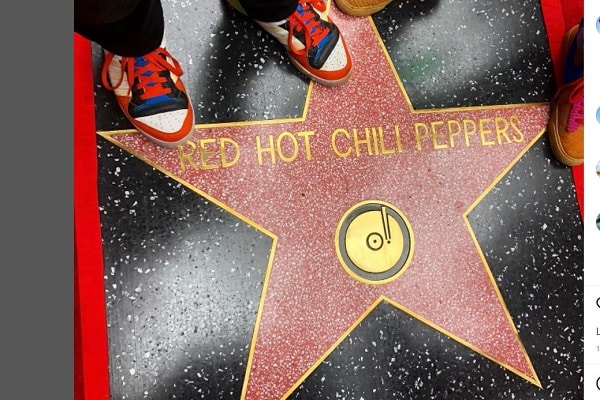 To celebrate their successful career as a band, Red Hot Chili Peppers have been honoured with a star on the Hollywood Walk of Fame.  This celebrates the band's four decades in music.
The current line up of Anthony Kiedes, Flea, Chad Smith, and John Frusciante attended this event, as the Chili Peppers received the 2,717 star on the Walk of Fame.
Watch the band receive this special honour below.
"not a story of individuals"
Speaking at the unveiling, drummer Chad Smith acknowledged the "amazing turnout" and also paid tribute to past members of the band.
Smith also paid homage to fellow drummer Taylor Hawkins of the Foo Fighters.
"I have to give a shout out to my brother Taylor Hawkins," he said. "He's flying around […] He would laugh and make a nice smart-ass comment about this whole thing, and I love him". 
Earlier, guitarist John Frusciante who returned to the band in 2019 after leaving in 2009, spoke about when he first moved to Hollywood in 1987 during his teens. He also thanked "everybody in the world who our music means something to". 
Flea had also spoken about how he "panhandled" to Hollywood Boulevard in his youth and played trumpet at the nearby Southern California University.
"I know this street inside out, and this street knows me", he claimed. "And whenever we've travelled around the world, this street has always been a part of me. I'm really grateful that now we can be a part of it". 
Chili Peppers rontman Anthony Kiedes also added, "To me, this is not a story of individuals. I love Chad, I love Flea, I love John, greatly. They are amazingly talented […] Something happens when we come together which is much greater than the individual parts". 
"The sum total of our parts is that we were able to find something that we love doing and communicate with the entire world. We started off playing dive bars up and down this street and making a handful of people dance". 
"We stuck together as a team and as a band, and now we can make everybody dance and feel joy". 
Chili Peppers Release 'Unlimited Love'
Chili Peppers' Hollywood Walk of Fame preceded the release of their latest studio album 'Unlimited Love' which arrived today.
This is the band's first release since 2016 and their first record since John Frusciante returned to the group.
More on this from Nova's report here.