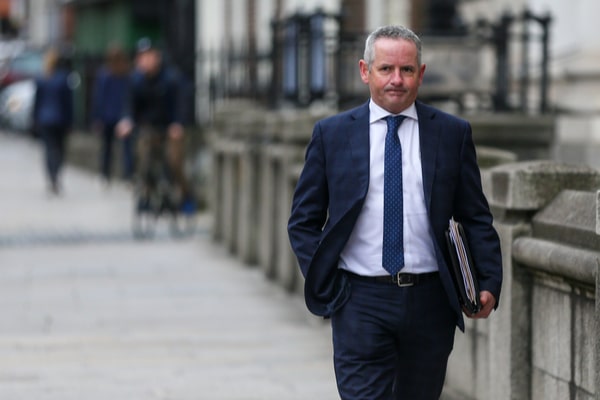 Paul Reid concedes that the "rampant" Omicron variant is "running rife" within communities as 9,006 additional cases of COVID-19 have been confirmed this afternoon. Speaking on RTÉ's Morning Ireland, the HSE chief executive has expressed concern for the PCR testing service, overwhelmed by the sheer volume of tests.
"There is no doubt now that the virus is absolutely running rife in our communities. If you think that you have COVID, it's most likely that you have it", Reid said. With a 30.5% positivity rate, 521 COVID-19 hospitalisations, and 92 intensive care patients in the country, the chief exec's words may not be far off.
In a bid to relieve the pressure on PCR services, Reid explains that extra capacity is to be introduced for testing. 223,337 tests have been carried out in the last seven days, with up to 400,000 antigen tests reported to have been sent out. Advice for those who are close-contacts, or experiencing symptoms of their own, is to immediately self-isolate and await testing.
"The simple message is, if you think you have the virus, avoid gatherings with people." Mr Reid said 250,000 PCR tests are being carried out every day. "Please stick with us. Yes, there are delays. It is important to isolate especially with this volume of cases in the community."
Aside from a few high-profile requests, the testing service is working through cases on the basis of priority, – GP referrals, close contacts, and positive antigen tests. Although Mr Reid claims antigen testing is now "a core part of the process," a PCR test ultimately determines a positive case.
Reid warns Ireland is still at the early stages of the curve of Omicron, as some point to future goals led by countries which have peaked. The Omicron variant is reported to be five times more transmissible than its predecessor, Delta variant, and is accelerating.
With hospital numbers are stable at present – mimicking Delta, Reid still fears more hospitalisations are on the way. Although health service staffing levels have subsiding from 6,000 absences to 4,000 absences in recent weeks, there is still genuine concern that the worst is yet to come. Mr Reid appealed to the public to protect healthcare workers by protecting themselves, their family, and the community around them.
The HSE chief warns that difficult choices will need to be made if hospitals were to exceed their pressure capacity. Although waiting list numbers had held this month, Mr Reid added that difficult decisions could lay ahead if hospital beds began to fill quickly after Christmas.