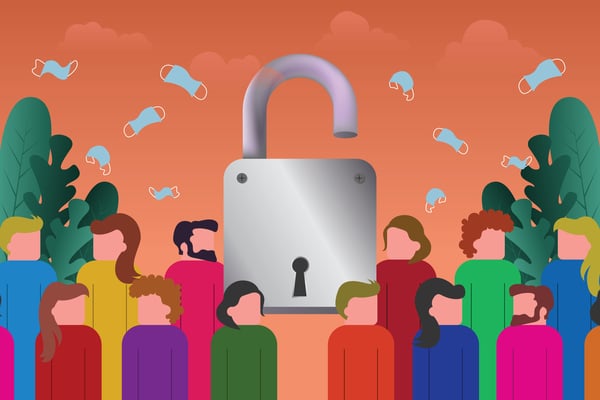 NPHET has advised the Cabinet of its support for the removal of almost all COVID-19 restrictions in the country. The National Public Health Emergency Team met this afternoon for a discussion on Ireland's response to the coronavirus pandemic.
Writing this evening to Health Minister Stephen Donnelly, Chief Medical Officer Dr Tony Holohan suggested toward his support in axing a range of COVID-related rules. According to Government sources, the CMO's advice is positive towards the reopening of shuttered sectors of the economy, and the relaxation social distancing rules.
Reports suggest that almost all current COVID-19 hospitality restrictions have been penned in to be removed from our lives. This is said to include the 8pm closing times, limits on attendance at events, and the use of vaccine certs for entry permissions. However, the exact dates on when these measures are in place has yet to be decided.
According to reports, leaders of the three government parties will meet tomorrow to assess the latest advice on Ireland's COVID response tactics. The Cabinet will then meet for further discussions before the Taoiseach makes an announcement to the public.
Speaking today in a radio interview, Taoiseach Micheál Martin said tomorrow evening; he intends to give a "clear and comprehensive statement about what lies ahead both in the short term and in the medium term. I think we can look forward to an earlier lifting of restrictions than we might have anticipated."
Speaking in the Dáil this afternoon, Tánaiste Leo Varadkar "we are now moving into a different phase, into a different chapter of managing this pandemic". Due to the current level of immunity in society, the Omicron being much less severe than previous strains, the Government will seek to review its current guidelines around schools and workplaces.
"It's a reasonable view that we will have to look at all our guidelines again. So, there will be an NPHET meeting today, there'll be a Cabinet meeting on Friday and on foot of that we expect to be able to ease restrictions.
"And of course, on foot of that, because of the change in the balance of risk that then allows us to update our guidelines not just in relation to schools, but also in relation to workplaces and we would intend to do that," he said.