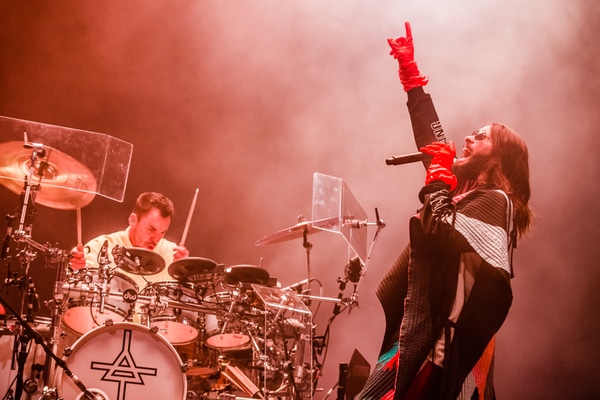 Thirty Seconds To Mars took to stage at the 3Arena on Wednesday, May 30th to an eclectic crowd of fans, who wanted nothing more than to see the greatness of Jared and co.
We headed along to catch a glimpse of the band in action, and this is what we came away with…
"Hold on, hold on, turn on the lights so I can see all these crazy people."
These were the words of Thirty Seconds To Mars frontman Jared Leto, decorated in a pink polka dot poncho and gold sequin gloves, four songs into the electric set of their highly anticipated return to Dublin's 3Arena.
It's been four years since the Californian rockers mounted the stage along the banks of the Liffey – their last tour promoting their thematic fourth album, Love, Lust, Faith, Dreams, and their period away from recording saw Leto return to his acting roots – even scooping an Oscar for his tender and affecting performance in Dallas Buyers Club.
Despite the notable absence of lead guitarist Tomo Milicevic, Leto and brother Shannon were back in form, with an impressive mix of both their biggest hits and a new set of rock anthems from latest album America.
Many had doubts that Thirty Seconds To Mars would ever conquer the same musical heights as they had in the past – however, they made a return to the rock world that was not only triumphant and spectacular but rewarding to their loyal fanbase.
In a energetic 15-song set that echoed rock giants such as U2 and Pink Floyd, Leto's chemistry with the audience was unparalleled; generously inviting fans onstage during the opening and encore; parading around the stage with a tricolour flag during Do or Die and even using his cúpla focal as Gaeilge as well.
A near flawless performance delivered overall, Thirty Seconds To Mars' only fault was there wasn't enough of them – they left you with a hunger for more that lingered long after after they'd left the stage.
More momentum towards the encore would have been appreciated; however, their performance, accompanied with a tropical colored light-show and a sea of dedicated fans, both young and old, made this show more than just a comeback gig.
Top picks from the night: Excellent offerings of This is War, Up In The Air and even a surprisingly strong rendition of Rihanna's Stay; however, Rescue Me was the pure showstopper for us.
Written by Louis Flanagan for Nova.ie.