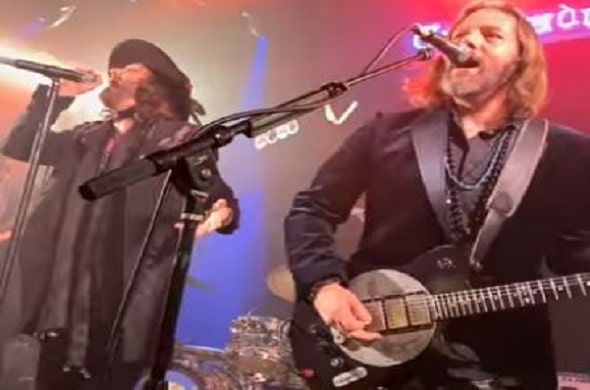 The Black Crowes guitarist Rich Robinson joined Radio Nova for an interview ahead of the re-release of their debut album 'Shake Your Money Maker'.
The hit album recently turned 31 years old and the band released a music video for the track 'Charming Mess' which was left off the album.
You can LISTEN TO THE FULL CHAT AND check out the new music video below
Rich joined Marty Miller for a chat despite some technicality difficulties due to the extreme cold weather in Nashville at the moment.
He jokingly blamed Donald Trump and his "douchey sons" for the terrible weather.
He believes that America is awaking from a terrible nightmare. "America is reeling a bit, just waking up, like did that just happen?."
With the election and the pandemic, it has been a turbulent time for many Americans but Rich has enjoyed the opportunities the time at home has offered.
He and his brother Chris have been writing new music. They often send each other around "30 or 40" ideas for new songs. Rich mentioned he has a huge family with 5 young children under the age of ten.
Apart of his huge family are relatives on wife's side from Tipperary. He hopes the Dublin show at the 3Arena in October can go ahead, but when asked if his Irish side can make the show, he jokingly admitted it would be hard to organise from a logistical point of view with his five young children all under the age of 10.
However, with the anniversary of 'Shake Your Money Maker' and more time spent at home it has given Rich the opportunity to reflect on the album which was the "springboard" for their career.
He never listened to the album because it was embedded in his brain as they were playing tracks from it at every concert.
However, Rich Robinson now sees the album for what it was – "…a true record, there was an authenticity, an honesty and sincerity to it that people could relate to".
Robinson believes that sincere and honest music will hit home with people.
He remembers the initial reaction Geffen records had to Nirvana. The Black Crowes were signed to Geffen and the record company had just signed Nirvana after their first album.
"They had signed Nirvana, and I remember people talking really disparagingly 'who gives a shit, it's punk rock, who cares and then that song (Smells Like Teen Spirit) came out and it was honest…and Geffen had no idea what to do with it."
Another artist Rich enjoyed for their sincerity was Amy Winehouse as he said "her music wasn't popular but she was a sincere character and people really fell for her."
That sincerity is important to Rich, as is having a youthful vigour when it comes to music. One person who embodies that youthful vigour more than anyone is Jimmy Page.
Rich remembers fondly hanging out with Jimmy Page and he would "tear into a solo". Rich had met Page through Robert Plant as Rich had supported Robert Plant and eventually supported Jimmy Page and Robert Plant during their shows together. Opening for The Rolling Stones is another experience Rich remembers fondly.
On why 'Charming Mess' didn't make the cut, Rich said they had written so many songs and were told by their producer George Drakoulias to keep writing. Eventually, 'Charming Mess' didn't fit the sequence of the album.
The similarities in the intro of 'Charming Mess' and 'Hot Legs' by Rod Stewart was another reason the track never made the cut. When challenged by Radio Nova, Rich was able to tell which one is which.
The Black Crowes re-release their debut album on February 26. It is available to order here.
They are also set to play at the 3Arena where they will perform 'Shake Your Money Maker' in full and in its proper sequence, along with other tracks from their career. The gig is set to happen on October 21 and tickets are available here.