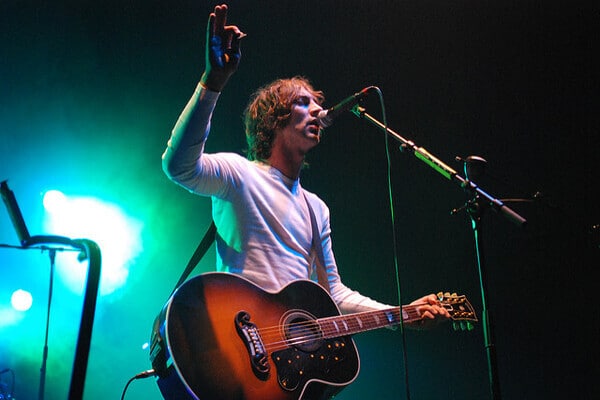 The Verve frontman Richard Ashcroft has pulled out of Sheffield's Tramlines Festival after learning it's being used as a test event by the UK government.
The singer/songwriter was set to play a headline set at the Festival.
However, after being made aware of the Festival's designation as part of the UK government's Events Research Programme, Ashcroft is now refusing to take part in the event.
Over the weekend of July 23rd to 25th, Sheffield's Hillsborough Park will host a full capacity 40,000 crowd as part of research into the return of live entertainment in the UK.
Attendees at the festival will not be required to wear masks or social distance. They will be required to prove that they have received both vaccination jabs, or alternatively provide a negative result from a lateral flow test taken within the previous 48 hours.
Addressing his fans on Instagram, Ashcroft made it clear that he has no interest in taking part in any government experiments.
"Apologies to my fans for any disappointment but the festival was informed over 10 days ago that I wouldn't be playing once it had become part of a government testing programme. I had informed my agent months ago I wouldn't be playing concerts with restrictions. The status of the festival was one thing when I signed up for it, but, sadly was forced to become something else," he wrote.
"It must be an age thing but the words Government Experiment and Festival," Ashcroft continued, followed by a string of laughing emojis and the hashtags #naturalrebel and #theydontownme. The hashtags are a reference to Ashcroft's most recent album 'Natural Rebel', and 'They Don't Own Me', a song from his 2016 album 'These People'.
Ashcroft's decision has divided fans. Some applauded him for taking the stance while others expressed dismay at his refusal to play at an event without restrictions.
Indie rockers Supergrass have now taken Ashcroft's headline place at the festival.
In a statement, Tramlines organisers said "Following Richard Ashcroft's decision not to join us at Tramlines 2021, we are delighted to let you know that the amazing Supergrass are your new Sunday headliners!"
The festival has offered refunds to any fans who bought tickets solely to see Ashcroft.
Under the Events Research Programme, the UK government has given the go ahead to several live events as part of ongoing research into the safety of crowds.
Despite a live audience of 4,000, mostly consisting of NHS staff and other key workers, the BRIT Awards failed to record a single case of COVID. Of the 5,000 attendees at a concert by Blossoms at Liverpool's Sefton Park, only two cases were recorded. Over the weekend of June 18th, 10,000 fans gathered for the Download Festival, however no COVID results have been made public from that event.
With Boris Johnson announcing that all restrictions are to be lifted on July 19th, UK live music lovers can expect several more events to be announced in the coming weeks.